Restaurant Trash Cans with Designated Recycling Compartments
---
Restaurant Trash Cans in Faux Wood— Recycling Bins for Paper, Bottles and Cans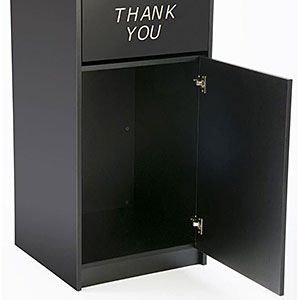 What's the best way to keep heavily trafficked areas in your eating establishments free of clutter? Place restaurant trash cans with designated recycling compartments in cafeterias and common areas to keep them neat and tidy. Encourage patrons to dispose of food, wrappers, paper plates, bottles, and cans by providing them with a waste receptacle with corresponding graphics. Our large selection of garbage and recycling bins holds up to 36 gallons of debris in each container. These waste receptacles are constructed of a combination of plywood core, MDF (medium density fiberboard), and laminated particle board. Melamine finishes in black, rich mahogany, and light maple stand up to frequent daily use. These units are easy to clean with a damp cloth making them perfect fixtures for busy hospitality environments.
Our waste receptacles with faux wood construction have a rich woodgrain look to them that compliments even upscale décor. Not only do these restaurant trash cans up the style ante of any food service, hotel, or office decor, but they resist dings and scratches better than wood - and MDF is much more affordable. Choose from a variety of waste receptacle designs to suit the disposal and recycling needs of your business. Our restaurant trash cans have the impressive look of wood without the expense so they won't put a decorative damper on the décor! Most of all these garbage containers help your business do its part in keeping the environment clean.
What features should you look for when browsing our garbage and recycling bins?
Size: Our restaurant trash cans come in single and side-by-side configurations depending on how big the venue is and how much paper, plastic and glass will be generated. Small cafes and diners usually require units with a single bin while dual-compartments are suited for large eating establishments, hospital cafeterias and hotels and conference areas.
Finish: Mahogany, maple, and black laminate are easy to wipe down and stand up to years of heavy usage - and they look as nice as rich hardwoods! Just choose the color that matches your current décor.
Stock Graphics: Our garbage and recyclable bins come in many styles, starting with simple designs with the universal logo for "TRASH" or "RECYCLING" etched on the front of the unit. Sometimes gratitude is the best encouragement - recycle bins with "THANK YOU" engraved on them subtly tell people what to do. "BOTTLES AND CANS" and "PAPER" etchings can be helpful and many side-by-side bins offer a way to dispose of food. Commercial recycling bins for paper, plastic and glass are a great way to keep common areas clean.
Tray Holder: Available with a recessed tray compartment or platter style holder, most units come with an open top design so people can put their dirty platters away so staff can get them on the belt for washing.
Doors: Push-door garbage compartment doors and slots for paper and bottles make these containers easy to use - and you don't have to look at the trash after it's disposed of!
Designated compartments for garbage and recycling not only helps your business venue stay professional looking and sanitary, but pre-sorting bins go a long way to protect the environment since waste and recyclables arrive at the dump organized! Shop our impressive selection of our wood construction melamine finish bins for restaurants, diners, cafeterias, and other commercial spaces at Displays2Go. Restaurants are some of our biggest customers and we want to give them our best in terms of design, durability, and price point. Great for school cafeterias and gyms as well, these bins make the subject of yucky disposal a breeze! Enjoy prompt delivery and timely shipping for in-stock items. Each of these bins is compatible with our 36-gallon liners for MDF trash cans, available on this website.