iPad Pro Stands - Commercial Grade Point of Sale and Kiosk-Style Enclosures
---
---
---
---
---
---
---
---
---
---
---
---
---
---
---
---
---
---
---
---
---
---
---
---
---
---
---
---
---
---
---
---
---
---
---
---
---
---
---
---
---
---
---
---
---
---
---
---
---
Locking Enclosures Position iPad Pro Tablets for Retail, Point of Sale, and Customer Engagement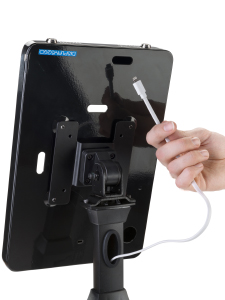 Are you looking to incorporate a mobile POS system or info kiosk into your business? Our iPad Pro stands are available in floor standing, wall mounting, and countertop styles to help you display your device in the location that works best for you. Rest assured that each locking enclosure will keep your tablet secure, making them a great choice for high traffic areas and public locations. Choose from our iPad Pro stands with covered home buttons to keep guests locked into only the content you wish to show. Use rotating countertop holders as a quick checkout system that can also be taken onto the sales floor during peak hours. Wall-mounted iPad Pro stands work great as info displays or advertisement players that can educate customers about your products and services while they browse. Whether you're operating a retail store, selling food from your pop-up restaurant, or exhibiting at a trade show, these locking tablet holders can help your business run smoother and boost customer engagement.
How do businesses use iPad Pro stands?
Flexible checkout and POS systems — Tablet software that allows for card and digital payments and inventory management has grown by leaps and bounds in recent years. What was once a novelty is now a common sight at small and large businesses, and it's easy to see why. Rotating countertop enclosures that use iPads in place of full-scale PC-based systems are more versatile and simpler to implement. Plus, if you need to meet a customer on your sales floor, you can take your POS system with you, allowing you to close a sale without having to make your guests wait in line.
Info kiosks and ad displays — Gone are the days when you needed to invest huge sums of money into video equipment just to run advertisements in your store. A simple free standing iPad holder with a lock is more than sufficient to run content that educates guests about your company values. Plus, the interactive element is built into a design your audience is already familiar with. Going one step above traditional ad displays, by simply loading up your website, you can turn your iPad Pro 12.9 into a kiosk that allows customers to explore coming soon, made-to-order, or temporarily out of stock items and make a sale you might have otherwise lost.
Lead generation and customer engagement — Gathering and managing potential clients' information can be a full-time job, especially if those prospects number in the hundreds. At trade shows, a wall-mounted device that allows visitors to input their contact details can free you up to do some networking. These types of interactive stations improve customer experience in the restaurant and retail worlds, as well. Where you might have had comment cards or a suggestion box to stay engaged with your visitors before, now an iPad Pro 12.9 kiosk with a survey can capture and store all that useful feedback.
Tablet and iPad holders are essential fixtures in the modern retail environment. It's easier than ever to load up and play informational content, allow customers to browse your full catalog for hard-to-find or special order items, or quickly take payments on the go. If you're particularly busy, you might not always get a chance to clean these often-touched surfaces. That's why we recommend covering your public touch screen devices with a layer of cut-to-size antimicrobial film made from copper. That way, you can ensure that your kiosks and customer engagement tools stay germ-free until you can find a spare moment to give them a proper cleaning.