Chalkboards in Floor Standing or Wall Mount Styles for Handwritten Messaging
---
---
---
---
---
---
---
---
---
---
---
---
---
---
---
---
---
---
---
Write-On Blackboards Add Retro Style to Store and Restaurant Signs & Menus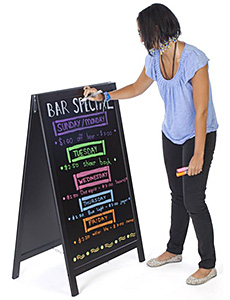 Pair these chalkboards with excellent penmanship and motivational slogans or drink specials for instant signage success! From retail shops to restaurants and bars, these write-on signs are perfect for just about any use. Plus, chalkboards can be reused again and again. We recommend wet-erase markers such as liquid chalk to really make your messages pop! Colorful stick chalk is also a great choice (on select models) for that traditional look when placed outside a shop or restaurant. Our chalkboards offer a convenient way to communicate with potential patrons and customers. Whether advertising a seasonal sale or enticing people with a happy hour special, there's no need to invest in "use once and throw away" signs. Reusable chalkboards let you change messages on the fly!
Which Blackboard is Right For You?
Chalkboards are available in floor and wall mount models. By far, most offerings come in the sidewalk sign style. These feature folding sandwich board designs for easy portability in and out of your establishment. Wall-mounted frames are excellent choices for restaurants for posting daily specials, beer lists, or menus.
Thanks to the rich black surface, whatever you write will look twice as bright when compared to regular whiteboards. While some chalkboards accept traditional stick chalk, handwritten messages using markers create a better presentation. Standard wet-erase pens offer good results, but the liquid chalk variety is the overwhelming favorite. These feature thicker, more opaque inks that mimic the look of natural chalk but boost the brightness factor!
You may not know it, but some frames come with custom printing. You can add your pub or restaurant's logo to the top of the frame, leaving room for your handwriting below. This is simple marketing 101 and very helpful for potential customers to differentiate you from a next-door competitor (if you happen to have one).
There's something about beautiful handwriting that resonates with people. Not all of us have the ability to generate flawless writing or drawing, but those who do can make a huge difference at the marketing and advertising level. In addition to these retro black boards, what other kinds of outdoor-rated signage can help your business increase revenue? Exterior display cases and stands showcase food menus for potential patrons outside your establishment to scrutinize before they step foot inside!