iPad Charging Trolleys for More Efficient Computer Management
---
---
---
---
---
---
---
---
Wheeled iPad Charging Trolleys Offer Storage and Security for Expensive Electronics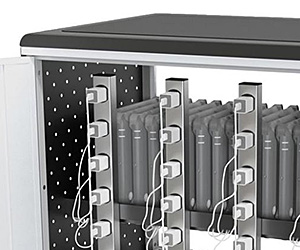 Any time a large number of laptop computers and tablets are used by a group, device management needs to be addressed. iPad charging trolleys provide the power that keeps your electronics charged while protecting your investment at the same time. The cost to purchase and maintain a battery of tablets or notebooks affects everyone's budget. If you count yourself included, iPad charging trolleys should be a major consideration. Schools and universities are some of our largest customers based on increased use of touchscreens in the classroom. Many retail store owners empower employees with tablets for help with sales and/or purchases. Protect your considerable investment by purchasing one of our PC or Apple® iPad charging trolleys for better service, security, and accountability!
What are the main selling features of these rolling charge stations?
iPad charging trolleys are, by definition, cabinets. Designed to hold anywhere from 12 to 36 devices, these make the most of all the available space. The locking carts feature internal shelving that stacks two or three levels high. Individual dividers help to protect scratching against other computers while allowing for better heat dissipation as well.
Speaking of ventilation, the trolleys feature lots of it. Perforated exterior walls, doors, and tops let the hot air generated by powering up escape. As with any type of electronics, heat is the enemy. Keeping your touchscreens and laptops cool will prolong their life.
Preventing your items from theft is a major concern. That's why every charge cart we sell comes with locking doors. Models feature either keyed locks or hasps that can be secured with a padlock. When it comes time to reach for your tablets, the doors swing open fully for unlimited access.
Mobility is another great feature. Rolling casters let you move the cabinets anywhere they're needed. Whether it's just across the room or way down the hall, transporting a classroom's worth of tablets is effortless.
Anytime a device needs to be charged, there is the inevitable power cable. For carts that can accommodate 36 computers, that's a lot of cords to deal with. Enter efficient cable management. Convenient cutouts and channels help to keep cords from tangling while positioning the plugs close to each assigned device, where it's needed.
Then, there is the issue of charging and the amount of electricity required. Most models come with integrated outlet strips that divide the cabinets into groups. These groups form part of an intelligent power distribution that efficiently charges devices in a round-robin cycle, so to speak. This not only helps to keep your items fully charged, it also does it on a single 15 amp circuit (your common wall outlet).
We mentioned "accountability" earlier. Not unlike managing an inventory of merchandise or supplies, keeping track of your tablets and computers is important. They're just too expensive to arbitrarily hand out and assume they will return. This is true in schools as well as at the professional level. IT departments have to label and record serial numbers, assign to specific individuals, etc. Locking charge stations inhabit a small footprint yet provide the necessary control and security for compliance. Need to charge just a handful of devices? Countertop docking stations offer a smaller alternative to large-scale cabinets. They're perfect for giving a boost to cellphones, small tablets, and more!