Lighted Open Signs Tell Customers You Are Open for Business
---
Flashing LED Open Signs for Hanging Behind Storefront Windows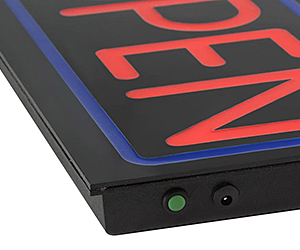 Why hang one of these displays near the entrance to your store? Because it makes good business sense. Lighted OPEN signs are some of the most recognizable types of signage any store owner would be eager to use. Powered by super-efficient LEDs to provide excellent brightness during nighttime as well as daylight hours, the cost to leave the sign on all day is negligible. Instead, use these lighted OPEN signs to announce you are ready for business. Each comes with its own hanging chain, on/off switch, flashing effects button (if applicable), and power cord to get you going right out of the box. Simply hang the sign indoors up against store windows in a conspicuous spot for maximum visibility. You may be thinking, "What's the purpose of having to say 'We Are Open' when people can see the lights are on?" What may seem obvious to you may not be so obvious to the potential customer outside looking in. "Potential" is the key word in that previous sentence. Do away with customer doubt and get that person to walk inside!
What sorts of businesses use these flashing window displays?
Restaurant and Food Service Establishments - Not only are the standard "OPEN" signs used by just about everyone, more specific messages like "PIZZA", "FROZEN YOGURT", and "BEER & WINE" advertise items potential patrons may not know you offer.
Convenience Stores & Gas Stations - Many quick stops have ATMs, and what better way to advertise this than with a brightly lit LED window display.
Cafes and Coffee Shops - Tell pedestrians you offer free "WI-FI". The angle here is getting people inside your door. Offering this service usually extends into more sales.
Static illumination, meaning the light stays on without blinking, is the more traditional choice. However if you want maximum visual impact, then choosing signage with flashing animated effects is the way to go. It's been proven that "movement" draws the eye, so no matter where you install the sign it will be seen. In the case of gas stations and convenience stores, they typically plaster every inch of their front windows with adverts and signage of all kinds. An LED sign with animated letters or flashing bulbs would help to make it stand out in the sea of advertising. All signs come with a power cord that's attached to the side of each unit, along with an on/off switch or a button that allows you to scroll through the available flashing light effects (only on applicable models). They also come with hanging chain for a quick and easy installation.
Our collection of lighted OPEN signs offers great variety and styles are available in oval or rectangular shapes. Choose static, non-blinking models for a no-nonsense display or opt for a flashing unit with animated motion effects that really draw attention. The primary color is red but some models feature blues and greens in either bare LED bulb designs or hard plastic faces that offer a neon-like appearance. While these OPEN signs won't advertise business hours or point attention to your ATM machine, they are nonetheless important tools for the business or store owner that adds legitimacy and professionalism to your establishment.