Flashing Window Signs Entice Customers with LED Animation
---
Flashing Window Signage is Hard Not to Miss!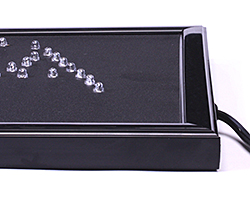 In addition to a traditional lighted OPEN sign, what other kinds of miscellaneous signage are available? Flashing window signs can advertise literally anything, from simple welcome messages to food items. Think of them as an extra advertising beacon for your place of business that points attention to a service (ATM) or a particular offering inside your retail establishment. Gas stations and convenience store display these flashing window signs all the time. The modus operandi of these quick-stop destinations is to get customers in through the door. Poster adverts usually cover the storefront windows to entice patrons, but once flashing window signs are added, people will see them FIRST. Movement is what draws the eye and therefore it's no mistake illuminated LED signage takes advantage of that fact.
Most flashing window signs feature individual bulb designs in order to display overall movement, animation, and multiple colors. A few hard plastic styles are also offered that provide the look of neon tubing. These models however, are static displays (meaning on or off) and simply illuminate without any animation. Browse from a nice variety of ATM signage, food related products, and more generic models that say WELCOME, WE DELIVER, or VACANCY/NO VACANCY. With a couple exceptions, the signs offered in this category happen to be the most affordable models in our entire line of LED window displays!