Sidewalk Swinger Signs Tackle Breezes Head On
---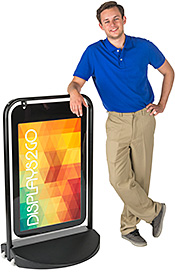 Sidewalk Swinger Signs Go With the Flow!
Is your store's location prone to wind gusts that effectively crush the idea of planting an outdoor advertisement? If the answer is yes, then may we suggest the use of sidewalk swinger signs to take back what is yours. That extra space in front of your establishment, be it a promenade, sidewalk, or parking lot, is prime advertising real estate you can put to good use.
Sidewalk swinger signs work just like any other portable roadside signage display, but come with two basic advantages. First, these all come with either fillable bases or fillable side supports. The round base models have a cap that unscrews for filling with either sand or water. If using water, the bases also come with rock salt that prevents freezing water from cracking the plastic. In the case of the side supports, simply pull out the plug located on top of each support for filling. The second big advantage these outdoor sidewalk swinger signs provide is the swinging action. Whether held in place by two top hooks or by a horizontal bar, the sign boards or letter boards allow breezes and gusts to simply blow past, leaving your message sign unscathed in its wake.
While we sell other fillable base designs, these swinger signs feature the best of both worlds. Now, what do you plan to do with them? Changeable letter boards are by far the most popular style purchased and are available in a range of sizes. Wet erase boards come next in both black and white iterations. A poster holder rounds out the selection with a unique, weather-proof frame design. One more thing to remember: all signs are double-sided to garner attention both coming and going. Attract pedestrians and motorists by wheeling one of our portable curb signs out in front of your place of business today.