Floor Standing Coat Racks Feature Weighted Bases
---
Coat Rack Floor Stands Add Style to Professional Interiors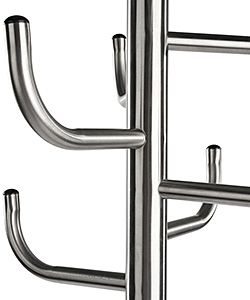 What's the solution for a closetless waiting room? Floor-standing coat racks provide convenience for patrons or visitors in any establishment. Easily seen in halls or entryways, these traditional furnishings bring old-fashioned sensibility to your interior decor. However, this doesn't mean our floor standing coat racks have to be boring! On the contrary, these stands feature modern designs with stainless steel construction. In addition to the hooks allowing clients ample room for hanging clothing and/or hats, some models even feature umbrella holders. Our selection of floor standing coat racks offers an affordable way to keep public waiting areas neat and tidy. Read on to learn more about their great features!
Why should you buy coat racks from us?
While the idea is old, our models are anything but! Featuring contemporary styling, these metal floor racks are designed to fit into virtually any interior decor.
Each stand comes with a weighted base for extra stability. When clothing is evenly distributed, it can accommodate well over 80 lbs.
Choose from two distinct styles: straight or curved hanging hooks. Neutral finished like black and silver are available to compliment your interior decor. Some models feature umbrella rings with optional base trays to catch any errant water. The rings are also height adjustable, so you can raise or lower their placement as you see fit.
All models ship unassembled to save on shipping costs. They are broken down into three main pieces (2 post sections and the base), along with the separate hooks and/or umbrella ring attachments. Assembly is simple and intuitive with no additional tools required and takes about 10 minutes to complete.
A coat stand is just one useful piece of furniture seen in today's professional waiting rooms or lobbies. When considering the comfort of your patients or clients, you must take into account how long they could be made to sit. Waiting room furnishings such as tables and chairs provide the backbone of any public space. Offering reading material is also a good idea in an effort to help pass the time. For additional information, please refer to our helpful article explaining how to keep patrons happy while they wait. Cater to your visitors — without them, you wouldn't be in business.