Retail Display Shelving - Open-Style Etagere Store Fixtures
---
Glass Retail Display Etageres, Bookcases, and Shelving with Open Concept Designs
Are you looking for an accessible merchandise fixture to showcase momentos, ornaments, and other department store wares? Our selection of retail display shelving provides a great way to single out individual products in high-traffic shopping center or boutique environments. Characterized by their open concept shelving designs, these contemporary store fixtures are a refreshing twist on standard merchandising units. The sides of our accessible retail display shelving allow customers to easily browse and add products to their cart. Available in a plethora of shapes, sizes, colors, and styles, our glass etagere bookcases can be used in a range of settings, including bookstores, boutiques, spas, salons, and modern commercial office environments. This style of freestanding, open merchandise retail display shelving to showcase items in a decorative, non-traditional way.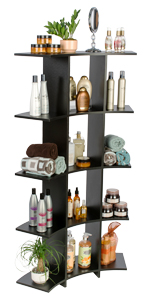 How do customers most commonly use these etageres in store to promote products?
Our retail display shelving feature a modern design ideal for presenting branded products for business in the service industry such as spas, salons, massage parlors, and more. Simple, open, and accessible, these models allow companies to easily share their merchandise in the main lobby or waiting room in a modern style that matches existing interior decor.
Bookcase display shelving is especially useful in department-style or antique bookstores. Each unit provides a unique design either in organized stacks or in the traditional vertical style. Use any of these styles for series or author showcases, highlighting best-sellers or editors choice top picks in the best way possible.
Specialty garment and boutique locations love our display shelving, as many are designed with X-sided farmhouse models that compliment a natural aesthetic. From rolling clothing rails, to multi-tier rustic units, our merchandising options are suited for any environment.
Wood and glass etagere retail display shelves can group together collections of products into a stunning showcase. Adjustable height shelves apt to specific promotions and merchandise presentations as needed for accessories, decorative accents, sculptures, and other art pieces. For those looking to reinforce their business's brand or messaging, a well-chosen etagere can do wonders for any store's visual aesthetic. Despite their function, these bookcases are incredibly versatile and can be used in a variety of ways. From antique to industrial to modern to rustic, etageres come in countless styles. Select from myriad of open concept display shelves in curved, tiered, ladder, and a-frame styles. They're also available in wood, metal, and glass to easily complement your existing décor and furniture. At Displays2go, we offer a growing selection of etageres for retail, office, and residential settings.