Wheeled Stanchions for Effortless Crowd Control Mobility
---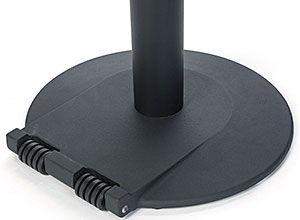 Transport Barrier Posts with Smooth-Rolling Wheeled Stanchions
Crowd control systems are heavy by design. Their weighted bases provide necessary stability in order to support the barrier line. Wheeled stanchions are a convenient feature when a setup needs to be moved. In the case of a small barrier system with just three or four posts, moving it by hand isn't an issue. Larger layouts quickly become a sizeable and weighty task. We've got the solution! Our wheeled stanchions come with integrated rollers built right into each base. Simply tilt the post to engage the wheels, and roll away! This design feature eliminates the back-breaking labor it would take to transport 20, 30, or even more posts. Good choices for airports, public ticket venues, and convention halls, these models are the answer when tasked with moving a large barrier layout.
What are my options for purchasing these crowd control posts?
We sell wheeled stanchions in economy or deluxe models.
QueuePole is our own proprietary line. Priced at 50% less than comparable models, these stanchions offer excellent quality and value all at a great price. Our customers have spoken and can't get enough of these affordable alternatives! Choose from black or silver powder-coated finishes. The 4-way retractable mechanism comes with 6.5' long belts that can be applied in any 90° direction.
Tensabarrier is the national brand known for its top quality materials and finishes. Black models feature a fancy wrinkled powder-coating while the silver styles boast a gray hammertone. In addition to having the same details offered by QueuePole, this line offers numerous belt color choices. The retractable belts themselves are also a foot longer, at 7.5'. An additional feature is the stacking mode. The base is designed with a cut out opposite the wheels that accepts another stanchion. Up to four posts at a time can be stacked, tilted, and rolled to where they need to go.
Any crowd control application that is set up and taken down regularly can benefit from these rolling bases. Adjusting an existing layout is just as easy thanks to the effortless tilt and roll action. Whether choosing an economy or deluxe system, queue solutions such as these help make implementing a safe crowd control system easy!