Stanchions with Accessories - QueuePoles with Top Mounted Extensions
---
Stanchions with Easy-Mount Accessories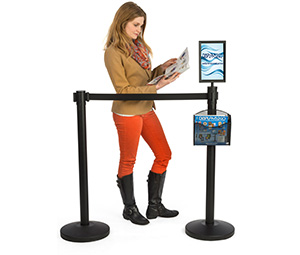 Want crowd control fixtures with something extra? These stanchions with accessories are great for adding functionality to queue lines in retail stores and service organizations. Barrier systems that lead to your point of sale or front desk will take up space, so why not use it to your advantage? Use stanchions with accessories, or queue poles with add-ons, to inform patrons, sell merchandise or create a writing surface. These traffic organizers create an orderly workplace while giving customers what they need. Browse our selection of stanchions with accessories to find the style that best suits your business.
What types of queue poles with add-ons do we offer and where can they be used?
Stanchion with accessories are available in a number of different designs. Our selection of crowd control stands with writing surfaces are excellent for businesses that require customers to fill out forms. In banks, this is invaluable for quick and orderly service because patrons can endorse their checks before depositing them at the front desk. Another great setting for use is the DMV, where people have the opportunity to fill out forms while they wait in line. These stanchions with an included writing surface can also feature tabletop brochure displays and business card dispensers to help promote your business.
Our stanchions with dump bins are ideal for retail stores because they place merchandise near the point of purchase. Crowd control poles forming a queue line are already directed to the cash register, so why not use this space to move products? These clear acrylic buckets make wares highly visible and ensure that customers will walk by them. Each bowl includes a sign holder on top to grab attention as well. Feature 11" x 7" signage to encourage passersby to take an item and make a purchase.
Any time standing water occurs on hard floors, it can be a real slipping hazard. Do yourself and your business a favor by providing bags for wet umbrellas. For just over $100, you can reduce your company's potential liability considerably. Visitors can reach for a short or long bag to store their wet umbrella once setting foot inside during inclement weather. A set of two stanchion posts are included, along with a double-sided sign topper offering the free service. Help reduce the risk of injury to your patrons and/or clientele with courtesy and hospitality.
Our post systems are made to last. Each unit is made of durable steel with a neutral black finish to match any interior. They also include a retractable nylon belt that has four color options to choose from and a 4-way adapter that will hold up to 3 straps from other posts. Create simple lines or complex shapes with these fixtures! The stanchions additionally come with a sturdy weighted base for stability in busy outlets. Our posts set up quickly and are easy to assemble, making storage and transportation a breeze.