Commercial Table Sets with Chairs - Contemporary Furniture for Professionals
---
---
---
---
---
---
---
---
---
---
---
---
---
---
---
Tabletop and Seating Sets for Commercial and Residential Environments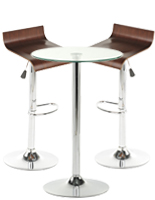 Are you in search of stylish and comfortable modern furniture for your home or business? Our commercial table sets with chairs are great for any setting because of their contemporary design and classic presentation. Whether at a trade show, bar, or special event, these 3 piece arrangements will transform a dull environment into a crisp and authentic space for interacting or relaxation. Our commercial table sets with chairs will look great in the window of a bar or restaurant as well. Customers will enjoy the upscale, yet comfortable feel that this furniture brings. The fact that our affordable commercial table sets with chairs are lightweight, portable and easy to transport from place to place makes these pieces ideal for special events, trade shows and functions. All the collections we offer have a diverse, yet neutral style to conform to any business or professional setting.
Where can you find this modern furniture?
Our commercial table sets with chairs are found in restaurant, bars, and bistros as pub or high top seating. Wineries or breweries often furnish their establishments with high top seating for tastings to allow visitors to freely sit or have room to mingle.
Retail and cosmetic stores use our three-piece furniture for beauty presentations like getting your makeup or hair done.
Residential homes are furnished with our tabletop and seating collections to create a modern social space in dining areas or on patios.
Trade shows use our tabletop and seating combinations for displaying company products and for seating for booth visitors.
Three-piece furniture is often seen at special events like weddings for cocktail hours or used as casual seating for guests.
Our modern collections are all constructed from durable materials. These combinations are built to be long-lasting. Regardless of the material - plastic, metal, tempered glass, or leatherette - we know that our products will hold up to the wear-and-tear of constant activity.
What are some more features of these tabletop and seating collections?
Most of our tabletop pedestals and the accompanying seating can be adjusted from a counter height to a taller bar style. The stools can swivel 360°, letting users to have the freedom to move while they sit. Many of the plastic collections have pneumatic lifts meaning that all the pieces in the grouping have a height adjustment option.
The tabletop surfaces contain economical safe tempered glass, modern ABS plastic, or acrylic. All of these durable material options makes for an easy surface to clean.
The stools have an ergonomic, yet attractive design. The seats feature unique curves, back rests, and foot rests to keep you comfortable while supporting posture. Each collection has a distinctive design!
The lightweight construction of the pieces in our sets makes going to and from trade shows and venues a simple task.
The wide variety of colors and finishes of our collections include black, white, wood, and tempered glass making it possible to match our furniture to any décor.
Each piece from any set can be sold separately. This means users can mix and match combinations and create something that's perfect for their style.
The versatility and durability of our contemporary furniture is what sets us apart from our competition. The well-crafted affordable designs and the sturdy material make our tabletop and seating collections a must have for any restaurant, trade show, or porch patio. Shop online to take advantage of quick shipping and low prices!