Modern Designer Chairs Offer Contemporary Comfort with High Style
---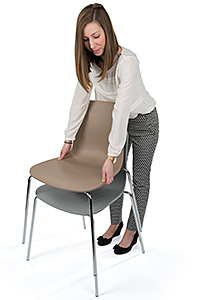 Classic Mid-Century Modern Designer Chairs Never Go Out Of Style
Business furniture doesn't have to be boring. Today's office interiors are making the move towards improving the creative look and feel of its work environment. Our collection of modern designer chairs harkens back to a time of great design innovation. Inspired by pioneering manufacturing techniques like molded plywood and fiberglass, this furniture (first introduced after World War II) offered a breath of fresh air. These modern designer chairs combine simple lines and curves into a bold statement. The mid-century aesthetic comes through loud and clear. Based on works by Charles Eames and George Nelson, these furnishings continue to resonate thanks to their clear design and purpose. Anyone looking to add vintage modernism to their office interiors would be hard pressed to find an equal, yet more affordable, substitute.
What are the main features of this contemporary furniture?
Our modern designer chairs draw attention to the juxtaposition of materials. Pairing molded plastic with wood or wire, the contrast in styles offers an unexpected marriage that actually works. Curved, organic lines meet streamlined, manufactured forms. This not only produced an entirely new aesthetic, but also made it better suited for mass production.
The Eames-style is exemplified by the tell-tale scooped shell seat. Originally produced in fiberglass, these contemporary versions are manufactured with affordable molded plastic or laminated wood in a variety of colors.
Traditional office chairs come with all the features you would expect. Rolling casters, spinning seats, and pneumatic height adjustments are available. For the simplest design, choose the models with straight legs. These can also be stacked and stored out of the way when used for temporary assemblies in schools or training rooms.
Original models manufactured by these designers are very collectable and command prices in the $1000s. However, you too can enjoy the look and feel of these famous mid-century modern chairs at a much lower price! The stylistic contribution of this remarkable furniture cannot be overstated. Dedicated to simple yet sophisticated design, they were mass produced for better affordability. It also ushered in an era of quality and value. These chairs were intended for use by the ordinary person in everyday surroundings, without compromising good design. Trends are, by definition, fleeting occurrences. The global design movement that is "mid-century modern" continues to fuel popular design and culture. Apply these streamlined and enduring furnishings at your place of business all at the lowest price! Looking for bar/cafe stools? We carry two Eames-style models in addition to many modern and contemporary high top chairs in chrome steel and leatherette.