Ergonomic Office Chairs - Modern Seating for Healthier Posture
We're sorry, but no items matched your search query.
---
Desk Chairs with Adjustable, Ergonomic Design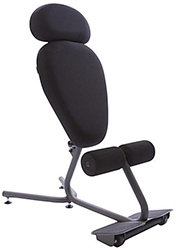 Looking to create a healthy working environment in your office? These ergonomic desk chairs let employees sit, kneel, or stand while working. This design is made to reduce neck and back strain by encouraging healthier posture. While these ergonomic desk chairs have a different appearance than most seats, they allow workers to try different positions than sitting for long periods. A few years ago, this activity was "the new smoking" in controversial high profile news articles. Challenging this dramatic condemnation, experts believe that striking a balance between sitting and standing is best for a healthy lifestyle. Give employees the option to control their posture with these ergonomic desk chairs.
How do they work? The ergonomic desk chairs have an adjustable design to assume a number of different configurations. Depending on where the cushions are moved, users can sit, stand, or kneel to find the perfect angle. Switching between these positions will decrease strain after sitting or standing for too long and will result in better posture. This will also increase blood flow, which decreases when the body hasn't moved in a while.
Our contemporary desk chairs can also help workers prevent themselves from hunching over their keyboard — a main cause of pain over long periods. Increase lumbar support and reduce lower back pain by switching to a position that gives this area more backing. When kneeling, the backrest isn't used, allowing the user's spine, shoulders and neck to align naturally. Weight is distributed between the pelvis and the knees, reducing stress on the lower back. In standing mode, legs are supported by the foam knee pads while the backrest provides lumbar support. Encourage users to try all of these positions and find out which ones are best for productivity!
What else makes these adjustable desk chairs excellent for creating a productive environment? Besides the long term health benefits, each seat has "breathing" polyester cushions to help employees work in comfort all day. The modern chairs also have angled foot pads for even more support and wheels to move from room to room with ease. Meet your workers' physical needs while encouraging a more healthful lifestyle with these great office accessories.