Holiday Message Advertising Flags for Seasonal Marketing
We're sorry, but no items matched your search query.
---
Seasonal Themed Advertising Flags for Holiday Marketing Decor, Promotions, & Sales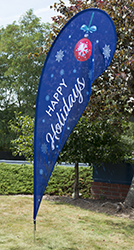 The Christmas season is right around the corner, and that means it's time for seasonal advertisements! Our holiday message advertising flags are sure to generate high traffic to your store. In the busy Christmas season, many retailers make most of their profits at this time - from Black Friday through Christmas Eve. If a company isn't in the black for sales this year, this is the last push retailers have to achieve their goals. Our holiday message advertising flags assist companies in generating a profit, and help drive customers to purchase seasonal gifts for friends and families. This specialty marketing is a great way to catch the eye of passersby during the increased shopping season. These decorative advertising products come in teardrop shapes and can alert customers of upcoming deals for Black Friday, Christmas, or even notices of "Tis the Season!" or "Season's Greetings!" to get shoppers in the mood to spend.
Where are these seasonal teardrop flags often found?
Our message advertising flags are often featured in retail settings. Visit any major department store, shopping center, or mall and you'll find one of our decorative banners. Retailers can get specialty pre-printed advertisements for this busy time of year that promote sales for Black Friday, Christmas, or Hanukkah. Event promotions take place frequently this time of year, and these decorative streamers will catch the attention of potential customers.
A car dealership's busiest time is at the end of the year for the holiday season. They will invest in our feather banners to drive customers to take advantage of Black Friday savings, Christmas deals, and end-of-year clearance events.
Banks, office buildings, churches, and event facilities often use seasonal flags as decorative accessories. Our pre-printed themed options make it possible for users to show their spirit for the holidays with a variety of graphic designs and sayings.
Our decorative banners are convenient and save customers time and money. Going to a local sign shop to print custom advertisements leads to higher costs and a loss of time. Teardrop shaped streamers with pre-printed messages are a quick and easy solution to visual merchandising. Our swooper flags can be reused year after year. They store neatly and will hold their vibrant color for customers to see in the distance.
We have a large catalog of seasonal specialty marketing displays to take advantage of. Shop online at Displays2go.com for quick shipping and low prices!