Holiday Business Marketing Table Covers - Pre-Printed Linens with Seasonal Stock Artwork
---
Commercial Table Covers with Seasonal Marketing Graphics
Are you in search of the perfect themed linen for an upcoming company party or school event? Our holiday business marketing table covers are a great solution for outfitting commercial tabletops. These pre-printed linens with seasonal graphics have a variety of stock artwork options to choose from. Craft fair vendors, caterers and other service providers will easily be able to find a cloth for a cohesive marketing theme that best suits their brand.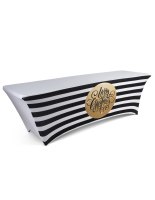 Our holiday business marketing table covers are a convenient option for commercial use. Local sign shops or custom printing businesses will cost you more time and money. Buying our themed tabletop throws in bulk lets you outfit a corporate event setting for less, and the durability of these covers makes reusing the linen a breeze. Customers can easily create a coordinated look with our pre-printed marketing table covers paired with any of the large selection of seasonal displays we offer to give their function a uniformed appearance throughout. No more worrying about running out of linens and then trying to scramble to match the rest! We have seasonal throws in fitted and traditional styles which allows you the freedom to choose the exact type of linen needed for your environment. Fitted style throws are ideal for high traffic locations like trade shows, holiday marketplaces, food festivals & Christmas markets. Traditional style linens have a fancier feel, and are ideal for fundraisers and charity events in a large venue like a dining hall.
Where else can you find our pre-printed themed tabletop linens?
Our holiday business marketing table covers can be found in retail settings like shopping centers, craft fairs, churches, and stores. Both stretch and traditional themed tabletop linens will enhance any setting. Having a Christmas sale? Display merchandise in conjunction with our seasonal throws to get shoppers in the spirit for your sales event.
In hotels and restaurants, these stock graphic linens come in handy for catered events, buffets, parties, and business functions. Hosting a corporate Christmas party in your establishment? Looking for a seasonal outfitting solution for your buffet tables? Enhance the event space with our seasonal throws and linens. Pre-printed message options allow hospitality companies to host various events and functions throughout the holiday season.
Community centers, corporate offices, and event facilities use our pre-printed decorative throws for large parties, fundraisers, or events. It's also prime time for holiday marketplaces to start popping up all over the place in search of seasonal linens. Hosting a craft fair or food festival? Holding a business luncheon or corporate event? Outfit the tabletops at your booth with our themed linens. The stock artwork options make reusing our throws possible year after year.
Schools or churches often use our pre-printed themed tabletop throws for hosting seasonal events. Need a large quantity of linens for the annual Christmas silent auction or your parish's pancake breakfast? The seasonal stock graphic options give event organizers a convenient way to outfit furniture at large events.
Using pre-printed themed linens is a great way to outfit any retail store, commercial setting, or special event. Users will benefit from the convenience of the pre-designed seasonal graphics and stock artwork. Displays2go takes pride in providing our customers with high quality products at the lowest prices. Shop our seasonal themed linens today!