Safety Floor Decals - Durable Vinyl Signs for Indoor and Outdoor Use
---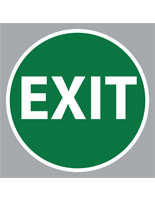 Large Floor Directional Sign Decals with Safety Graphics
Want to create a secure work area using high visibility signage to encourage safe social distancing practices, include warning stickers, and directional stickers? Try our safety floor decals to feature messages about emergency exits and possible hazards. These warning graphics are excellent for alerting workers and visitors alike with their recognizable design, and many options include directional signage to manage the flow of foot traffic in high-risk locations such as warehouses or retail shopping aisles. Our occupational safety floor decals use bright colors, bold text, and standardized symbols to ensure that everyone is aware of their surroundings. Whether it's a manufacturing facility, a warehouse, or a corporate office, these directional stickers will stand out. Browse our large safety floor decals in a variety of styles to meet any business's needs.
Occupational safety floor decals are offered with a variety of messages to fill numerous roles. The signs use recognizable symbols, messaging, and different colors depending on their use.
Bright yellow signs advise caution around hazardous areas and materials. High voltage components and flammable substances should always have these warnings nearby. OSHA states that graphics must be placed "as close as safely possible" to hazards.
Red signage is for restricted areas, emergency-only exits, as well as fire alarms and extinguishers.
Green signs have a less striking design and are used for general safety, rather than a specific danger. These mark exits and fire escapes.
How do you install these vinyl floor decals? Each unit has an adhesive backer that securely sticks to flooring and is often reusable. Simply peel off the backing and place the graphic carefully. The images are made of durable vinyl with a working-walking surface. The signs' high strength makes them great for use from one to three months. These images can also be placed on smooth industrial walls like those found in warehouses.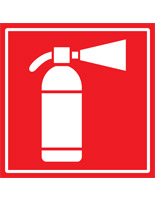 How can our floor directional signage be used to improve social distancing and avoid occupational hazards?
Floor decals should be thoughtfully placed in locations of high visibility. Employees should be able to quickly identify hazards and emergency exits without having to search for them.
Place these decals in open areas where they can be seen from multiple angles, while accurately pointing people in the right direction to avoid corss-contamination or unnecessary foot traffic. For example, if you're want to direct employees to a wall mounted fire extinguisher, place the sign near the device in the middle of the hallway.
If you're placing this signage on walls, make sure to put it at eye level. This will ensure that people are immediately drawn to it. So, in case of an emergency, everyone already knows where to go.
Create a layout of escape paths with directional images. If there's a fire, employees will need to leave the building as quickly and efficiently as possible. Make sure to take the size of doorways and hallways into account when planning your routes.
Place floor directional signs in high-traffic areas to remind customers and employees to maintain at least 6-feet of distance between one another to best avoid the spread of germs, especially during cold and flu season.
These decals are ideal for keeping workers informed and safe with their eye-catching design. With thoughtful placement, they can even save lives in emergencies. Read our article on workplace safety for more information on creating a secure work environment.