20' x 20' Trade Show Displays for a Bold Exhibit Presentation
---
20' x 20' Trade Show Displays for a Commanding Presentation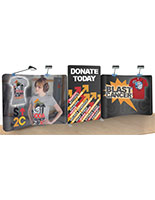 Are you on the hunt for a convention display that will deliver an impactful presentation? Our 20' x 20' trade show displays have big, bold layouts to draw the attention of passersby and potential customers. Selecting the proper booth size can be vital to the success of your convention. If the area is too small, visitors may feel cramped in your booth or feel like your business doesn't have much to share. With 20' x 20' trade show displays, you won't have to worry about passersby having a frustrating experience with your brand. These large exhibit pieces will assist you in having a commanding presence at your next event. Fill your 20' x 20' trade show displays with custom graphics, banner stands, digital signage, and seating for your visitors. Browse our large catalog of booths to find the one that's best suited for your brand!
What are some of the benefits of having a larger exhibit?
Choosing 20' x 20' trade show displays will lead to better visibility at your convention. Whether you pick a truss unit or a large pop-up background, these have a significant height advantage compared to standard 10' x 10' sized booths. The size will make it more noticeable for passersby within a sea of exhibitors.
Having a large exhibit will create a commanding presence at a convention. With large truss fixtures that take on many different layouts as well as enormous pop-up units, it's easy for these booths to require the attention of everyone that passes by.
One of the more obvious benefits of these units is that you have more space than an averagely sized booth. With this extra space, exhibitors can conduct demonstrations, show more merchandise, mingle with visitors, and conduct business transactions.
A larger exhibit leads to more visitors occupying your booth. More people could potentially mean more sales on the products or services you're promoting. This could also bring more brand recognition to your company - the more people that see what you're doing, the faster it spreads to others. "Word of mouth" can be a key part of having a successful booth, and the more visitors you have, the easier it is for others to hear about you.
Larger exhibits allow for a larger canvas to create an enticing brand presentation. With more of a surface area, exhibitors can embellish the booth with customized graphics and other design elements. The overall goal of any convention or expo event is to have a clear, impactful presentation.
What types of exhibits are available on our site? While you browse through our large catalog of displays, you'll find truss units and pop-up backdrops. Some of the truss-style fixtures are 12-panel presentations, and some are "L" shaped. Some units are available with custom graphics, and users are required to upload artwork for the final product. With other truss modules, customers must provide their own graphics. This gives customers the freedom to really make the presentation their own! The pop-up units come in 3-piece sets and require the submission of artwork for custom graphics as well. These units come equipped with either halogen lighting or LED lights to put your exhibit in the spotlight. Regardless of your needs, at Displays2go we are here to provide you with high-quality products to keep you within trade show booth regulations!