The Best Banners for Trade Shows Target Your Audience
---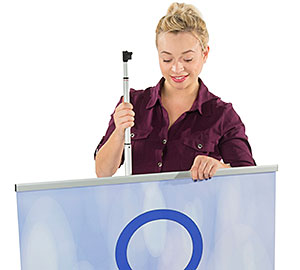 Compel Visitors to Visit Your Booth with The Best Banners for Trade Shows
One of the most important aspects of exhibiting at a convention has to do with perception. You need to deliver your message in the quickest, most impactful way in order to increase foot traffic to your booth. Sounds simple on paper, but the easiest trap to fall into is getting overwhelmed by options. There are lots of display fixtures out there that carry all sorts of promises. First and foremost, (in lieu of whatever product or service you are selling) it's the visual cues people take into account. With that in mind, the best banners for trade shows take your custom printed graphics and make them easily digestible, understandable, and marketable. Whether placed on the floor or hung from the ceiling, these displays will target the type of convention-goers you are actively looking for. Communicating a precise and clear idea of who you are and what you're selling is the goal.
Helpful Banner-Making Guidelines: (Or, How I Stopped Worrying and Learned How to Make an Awesome Graphic)
Know Your Customer — Put yourself in their shoes. What are their needs or motivations? How can you show (using custom printed graphics) you have what they're looking for? Always keep the focus on the customer who will, in turn, keep their focus on you (instead of the competition).
Deliver Your Message — Have you heard the one about needing 3 seconds to make an impression? It's unfortunate but true. Your graphics not only need to be large and arresting, but they also have to communicate FAST to your targeted audience. Branding with company logos and/or products is a given, but do it with as few words as possible. Think of this as a "Call to Action".
More....or Less? — This one is tough because it's in our nature to open the floodgates when it comes to loud graphics. But working with less can be just as potent, if not more so. Too much text can be off-putting. Product specs and company information are best served by brochures. For your banner, keep things short and to-the-point with a bold headline and a few marketing snippets. Text placement is equally important. Locate headlines at the tops of banners so they won't get blocked by the crowd.
Images Tell The Story — Everybody loves a colorful picture. Unfortunately, so do the other 500 exhibitors attending the same show as you. This shouldn't be cause for concern. Trade shows are known for visual overload, so there's not much you can do about it. Choose pictures that reinforce your company's brand. Stay true to your vision with images that are easy to interpret.
Complement with Color — Finding the right balance amongst all the elements within a banner design begins with color. If your company already has a logo, you'll want to continue using that color if possible. Adding additional contrasting colors is another possible direction, but limit yourself to three different colors in total. On the opposite side of the spectrum, pay attention to the white, or negative space. Leaving empty areas provides breathing room for the design elements which, again, brings us back to the idea of balance.
And Finally...Be Consistent — Take a step back to look at the bigger picture. Is your banner design consistent with other promotional materials like catalogs or brochures? Having a cohesive design plan not only makes sense, it also looks much more professional.
While banners and flags make up just one element inside the exhibit booth, there is a lot riding on them. The exhibit hall sea is filled with competitors just like you fishing for customers. Therefore, luring them inside your booth starts with visual recognition. A coordinated game plan (with a simple, powerful banner graphic) provides the hook!