Trade Show Travel Cases and Utility Carts with Wheels and Padding
---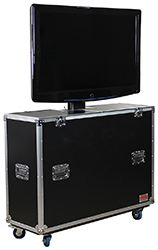 Trade Show Travel Cases and Utility Carts — Everything you Need to and From the Show!
Hitting the road with a lot of expensive exhibit equipment? Our trade show travel cases and utility carts are designed to transport large displays to and from the show! When you have a lot of presentation equipment, it quickly becomes too cumbersome to haul everything to a convention hall. Our impressive selection of trade show travel cases and utility carts protect your investment. Traveling alone with big backdrops? These trade show travel cases and utility carts transport any sized display. From delicate technology, to display units, magazine stands, banners, and prize wheels, we have containers in the right sizes and shapes to support your exhibits. Need to haul a set of stanchions? We've got you covered there, too. When there are a lot of pieces to keep track of, it helps to have smart solutions for organization.
What type of crate or transport container should I get for my exhibit display?
Trade show travel cases and utility carts include models with hard plastic shells, gliding casters, and industrial-grade EVA foam inserts. This style is perfect for safely carrying flat screens and AV equipment or fragile lighting components.
Trunk-style crates with wheels feature butterfly latches for securing the contents, and a non-electric hydraulic lift for raising heavy electronics without anyone straining their back! This classic carrier with butterfly hinges looks professional rolling into your booth space.
Prize wheels and games are less fragile but they are cumbersome to carry without one of our convenient over-the-shoulder carrying bags with strong nylon straps. These bags, typically constructed of canvas, can be stored vertically on a plane or in a car, taking up only a small footprint.
Our cases include convertible counters for exhibits that reduce the need to buy additional furniture. These hard shell case-to-containers eliminate the need for two units, saving you money. Change your shipping crate into a demo counter in seconds - a detachable lid becomes a stool. Built-in shelves can dispense promotional materials or display products.
Banners, backdrops and graphics may look like they'd be hard to travel with, but our carry bags come in flat and telescoping designs that protect valuable artwork and the integrity of beautiful nylon or vinyl signage - bring these on the plane or stow them in the back of your car.
Stanchion carts come in three sizes: micro, all-terrain, and maxi and they help you get to and from the show. These hold up to to 18 posts and toppers. Two padded rails support hanging ropes of varied lengths. Rubber gaskets prevent scratches on wood flooring and tile. Despite their small footprint, these carts support up to 500 lbs!
Our line of cases are well designed and built to withstand frequent travel. Constructed of plywood, PVC, laminated MDF and ABS, our quality storage fixtures are durable and booth-worthy (ABS plastic is fire-proof, a great feature inside of small booths). Some containers are meant for rolling and or pulling behind you. Molded resin units are great for protecting the contents in bad weather.
Tilting wheels make it easy to transport bulky equipment across a large hotel or conference center. Casters lock when the destination is reached to keep the unit stable during use. Plastic handles are extendable so containers can be pulled behind you like luggage. In addition to protecting expensive equipment, our travel containers organize different components so they don't get lost.
Industrial-grade utility carts from Displays2go.com are great for everything you need to and from the show. Tote large jugs of water, booth furniture, stanchions and more! Our polymer steel hand trucks feature an extendable, non-skid bed for safely carrying expo equipment. These sturdy yet lightweight carts fold for storage in airline compartments or in the back of a car. These utility hand trucks can be configured eight different ways. Make sure you're doing all you can to build brand awareness with dynamic trade show displays and don't forget to protect your investment!