Stanchions with Umbrella Bags - Crowd Control Posts with Waterproof Pouches
---
Belt Stanchions with Plastic Bags for Umbrellas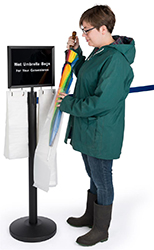 Looking to direct crowds and control foot traffic while ensuring a safe environment? These stanchions with umbrella bags are great for keeping floors dry to prevent slip and fall accidents. Each package comes with 300 plastic sleeves that customers can put their accessories in to prevent them from dripping on the floor. In addition, the stanchions with umbrella bags include a sign with a pre-printed message that communicates this message. The posts and pouches are excellent for stores, offices, and churches where they can show visitors the right way while increasing safety. These stanchions with umbrella bags aren't just for rainy days!
What features are available with these crowd control posts?
The stanchions with umbrella bags include two sizes of plastic sleeves, 150 short and 150 long.
Each post is made of strong metal with a neutral finish to fit any interior. We offer different colored belts to match company logos as well.
The two stanchions included in each kit have a weighted base that keeps them upright even in busy areas.
Included is a pre-printed sign with a black background and white text for high visibility. This signage lets guests know they can take a plastic sleeve.
Why use stanchions with sleeves to keep your lobby clean and slip-free? There's nothing like these stately posts to greet visitors at the entrance and give them a complimentary pouch. Patrons will notice the thought given to their needs, and it helps your establishment prevent accidents. When someone gets injured on someone else's property, it's often called a "slip and fall" or a premises liability claim. Keeping floors dry not only helps prevent legal action, but it stops people from getting hurt as well. Removing dangerous conditions from your establishment is always worth it.
Want more products that can keep your lobby clean and dry? Our commercial floor mats have an absorbent design that prevents water, mud, and dirt from being tracked in with strong nylon fibers. Simply vacuum the carpeting or hose it down to clean it.
Browse 1000s of great commercial displays and accessories on Displays2go.com, all offered with fast shipping and wholesale pricing.