Video Wall Systems - High Resolution Commercial TV Grids
---
Digital TV Video Wall Display Systems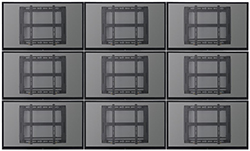 Is one screen not enough for your professional needs? These video wall systems are giant digital displays made up of an array of flat panels. The LED packages are ideal for promoting the latest products at a trade show, featuring a menu in the food service industry, or creating a high-tech data center. Video wall systems excel at covering large areas with a dynamic vista, maximizing visibility wherever they're placed. This electronic signage is also capable of featuring text and graphics with unmatched quality since each kit includes multiple high definition TVs. Video wall systems can benefit so many businesses with their large size, detailed resolution, and versatility.
Why Choose Pre-Bundled TV Walls?
When it comes to the multitude of video wall solutions on the market today, as a customer you might be struggling to decide which option is the best for you and your needs. With our pre-bundled video walls, you'll have everything you need all in one place. No more missing parts or features — have the monitors, brackets, cables, and media systems in one convenient package. Our high-resolution, full HD video walls come in 4 x 49" and 4 x 55" screen size configurations, giving users a variety of options for their establishment. Regardless of the size option you choose, each bundle has four screens with ultra-low bezel widths and brackets that push in and pop out with ease to create the perfect presentation. Pre-bundled options are the best choice for any business that wants a high-quality, complete package with all the bells and whistles.
Where are these flat panel configurations best used?
Video wall systems are great for food services, featuring a giant menu that's easy to read. Restaurants, cafeterias, bars, and cafés all use large scale digital signage to inform patrons about specials, prices, and even special promotions.
Transportation terminals like airports, train stations, and harbors are another great place for these packages. There's no better way to show departures, arrivals, and travel times than a large digital display that's easy to update.
Many corporate offices also benefit from commercial video systems, using them for presentations in conference rooms or to go through heaps of data with ease. They're also used in lobbies to greet visitors and introduce them to the company.
Data centers are the perfect place for a large video system because they need to track and monitor extensive quantities of information. Many organizations ranging from company IT departments to military "war rooms" often use this as a solution for high priority operations.
Educators in schools, colleges and, universities also use video systems to teach and examine research. Their giant size facilitates collaboration between peers, whether it's students learning something new or researchers examining new scientific discoveries.
Trade show booths feature colossal displays to create an advertising presentation that's hard to ignore. It's easy to give everyone the big picture of your business with one of these!
Entertainment venues use electronic signage systems to feature movies and other on-screen media. Give live bands a giant backdrop that plays dazzling visual effects for a completely dazzling performance.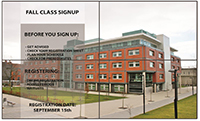 Multi-screen systems are a great choice for a number of industries, but how do they work? Each package consists of a number of flat panels that are mounted to vertical surfaces. Simply mount the brackets side-by-side so that the screens will create one continuous display. Some of our mounting hardware can extend forward for easily connecting cords. Read our guide on installing digital panel arrays for a quick and easy setup.
We offer electronic signs in different sizes, but all feature full HD resolution. Customers can either purchase one of our pre-bundled display solutions with everything they need, or they could even build their own video wall configuration for a more personalized experience. Our 1080p TVs with a narrow bezel are perfect for creating a seamless display with minimal space between screens to provide a seamless viewing experience.