Cafe Table Sets Rated for Outdoor Seating
---
Round and Square Table Sets for Cafés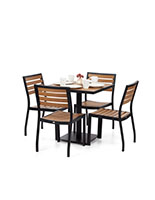 Need stylish patio furniture for your restaurant? These café table sets are made for both indoor and outdoor use. All-weather furnishings are perfect for any bistro because they'll always fit the environment. Each café table set includes chairs for a complete package that's ready to be placed out of the box. Quickly position these fully assembled furnishings either in your establishment or out in an open-air dining area. All of these café table sets are offered with fast shipping and wholesale pricing as well.
What features come with these tabletops?
The café table sets' countertops are made of durable aluminum with a smooth stainless steel surface.
Each unit has a sleek silver finish that will match any bistro's interior or exterior. The counter features an attractive pattern made of shiny gray swirls.
Tabletops are available in both round and square shapes. Choose the right design to fit your establishment's style!
While the countertops are made of sturdy metal, they're lightweight for easy transportation and storage.
The table sets will protect flooring from damage with plastic floor glides. There's no reason to worry about sliding them around when repositioning.
What kind of seating is included in the kits?
The chairs are offered in two styles, both made with the same lightweight aluminum construction as the counters.
Seats can feature a slatted metal back for a completely silver design. This sleek appearance is great for completing a modern dining kit.
Chairs with a woven rattan seat and back for sitting comfortably. This material has a natural brown finish that looks great in restaurants and diners.
When you're ready to store these seats, they can be stacked on top of each other easily. Pile them up to 20 units high!
These table sets are a great way to quickly and conveniently set up an outdoor dining area. All furniture featured here has a durable aluminum design that's still lightweight for easily moving into position. While they're outdoor rated, they should be brought inside during long periods of wet weather. Although the sets can handle moisture, extended exposure to water will reduce their longevity.
For more commercial countertops, browse our plastic folding tables that feature a portable design. Whether they're used for dining or trade show booths, they'll be great for the job. Browse our additional seating options for bar stools, office chairs, and ergonomic seats.