Cafe Style Cafeteria Breakroom Furniture - Modern Table & Chairs Collections
We're sorry, but no items matched your search query.
---
Cafeteria and Breakroom Seating - Contemporary-Style Table and Chairs Sets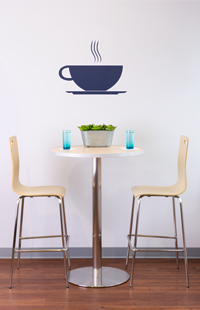 Sometimes it's not always easy to find suitable pieces to furnish a lunchroom or office break area. Adding comfortable and aesthetically pleasing café style cafeteria breakroom furniture to this space is the solution. These table and chairs sets are available in a variety of designs - square & circle tabletops and pub-style highboys. Café style cafeteria breakroom furniture comes in three and five piece groupings. Three-piece collections include the highboys and chairs as well as the square shaped tabletop and seating set. For more seating, the circular bistro-style collection comes equipped with four chairs as the five-piece set. The contemporary cafeteria breakroom furniture is a convenient seating option and users can mix-and-match the various designs to outfit an entire room. Browse through our modern selection of table and chairs groupings to find the best option for your space!
What are some of the key buying points of these contemporary dining sets?
Our café style cafeteria breakroom furniture is all finished with laminate - meaning that it's extremely easy to clean. This comes in handy in crowded lunch and dining spaces where a lot of messes often happen.
Each collection is built with a durable design, making them great for everyday use. The brushed steel hardware of each piece is both sturdy and attractive - able to withstand the daily wear-and-tear of an eatery setting. The chairs allow for a 300lb. weight capacity with strong stainless steel legs for support.
Both the highboy style seat and the lower bistro-style seating have curved backs for comfort, giving users the ability to relax while maintaining good posture. The lower bistro-style seating is also stackable which comes in handy for storing purposes or if the table and chairs are being used in a multipurpose room like a banquet hall.
Each table and chairs grouping comes in light and dark shades of wood, making it easier to match with any dining area. Regardless of the finish you choose, any collection will be sure to complement the space.
With such a sleek, contemporary design, our dining area table and chair collections can be found in many settings. Employee lunchrooms, schools, coffee shops, and bistros can all benefit from this type of seating option. Looking for more styles? Check out our large selection of commercial tables and pub sets - great for use in businesses, restaurants, or even the home. Displays2go strives to bring customers low prices, quick shipping, and quality products. Shop online with us today!