Wireless Charging Stations - Furniture with Inductive Charging Pads
---
Charging Station with Wireless Qi and PMA Technology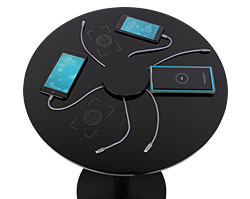 Ready to accommodate customers with the latest technology? Our wireless charging stations are great for inviting patrons in with the promise of a charged phone. Most popular devices released after 2017 feature Qi inductive technology, making them compatible with cordless power bases. These wireless charging stations are perfect for recent iPhones and Samsung models, which are among the most popular touchscreens in the United States. Restaurants, stores, and waiting rooms are ideal locations for these convenient fixtures. Advertise your wireless charging stations and patrons won't hesitate to walk through your door!
What are the benefits of using this furniture with cordless chargers?
Wireless charging stations, while not exactly new, are surging in popularity. With the release of the iPhone 8, 8+, and X, inductive power is in the mainstream. Not only is it trendy to feature this furniture in your establishment, but it will show patrons you want to accommodate them. Create a welcoming atmosphere that will bring in customers and power their devices at the same time.
Our cordless charging stations are a great alternative to units with wires. Instead of dealing with cumbersome cords, users only need to place their phone down on the pad. The energy will travel from the table's power supply, through the raised circular area, and into the device.
Some of these inductive charging stations come with more than one power hub. Accommodate more devices and more customers to increase your establishment's appeal. No one wants to be left out with a dead phone and no way to power it. This is a common problem at airports where outlets are often rare and fought over. Make sure everyone gets a chance to refill their battery!
These inductive charge stations have multi-purpose designs. For example, our line of tables feature ample space for dining and working. In restaurants, customers will be able to enjoy their meal while their cellphone charges. The tables also include bag hooks underneath the tabletop for extra room.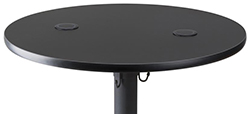 What else makes our phone power stations great for businesses? Each fixture is easy to assemble for almost immediate use. Don't worry about setting up the power supply, the wires are already attached to the furniture and the charging hub is ready to go.
Our cordless power fixtures are made to accommodate as many devices as possible. These hubs are compatible with both of the major standards in inductive power: PMA and Qi. The former is featured in Blackberry smartphones as well as the Samsung Galaxy line starting with the S6. The more popular Qi standard is found in iPhone models made in 2017 and after. This is also used in Samsung's Galaxy line. There are numerous smartphone accessories that add cordless charging capabilities with either of the systems. As long as they say "Qi" or "PMA" (also called "AirFuel Alliance"), they'll work with our furnishings! For more information about this technology and see which electronics are compatible, read our article on wireless charging.