Custom UV Printed Office Signs for Doors or Walls
---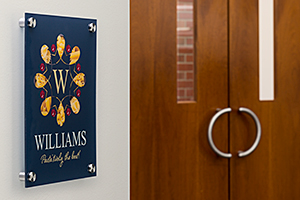 Just Launched: Wall Mount Office Signage with UV Printing for Business Professionals
Displays2go is proud to announce an all-new expansion of our popular DSIGN line! Custom UV printed office signs remove the do-it-yourself aspect and replace it with our state-of-the-art printing process. Furthermore, these are priced at just a handful of dollars more per piece when compared to the DSIGN products. What you get is a permanent graphic applied directly to the acrylic panel's surface. Our custom UV printed office signs are manufactured with the same DSIGN materials and mounting methods. There's just less material and handling to deal with. From an installation standpoint, these new office signs are easier to install with less time required.
What makes these door and wall sign displays so appealing?
For starters, our custom UV printed office signs evolved from one of our top-selling products — the DSIGN line. Their affordability and DIY aspect struck a chord with customers. The recent purchase of a new flatbed UV printer afforded us a new way to offer low-cost signage.
With fewer parts to assemble and mount, these office signs with standoffs install much faster. And, since we do the printing for you before it ships out, you won't be dealing with the original DSIGN print film on your end.
The UV printing process applies the high-resolution ink directly to the acrylic plastic (where it's instantly cured via high-powered UV lamps). In this case, it's applied second-surface, meaning on the reverse side of the clear panel. What you're left with is a professional, high-gloss sign display that looks terrific.
Since we're offering full-color printing, the sky's the limit regarding your custom artwork. Our flatbed printer provides excellent, high-quality results. Fine details, colorful gradations, and hi-res images are just the beginning!
We've saved the best news for last. What comes to mind when you hear the words, "custom printed sign"?....high prices. Most customized signs are one-offs — meaning a single piece. Labor and setup costs for such a small number are always exorbitant. That's why it's common to see an MOQ, or minimum order quantity applied to custom work in order to offset some of those charges. But, most customers need or want just the one sign. No problem. Order as many or as few as you would like, without a minimum order quantity applied. It's just our way of providing long-standing customers with the quality and service they expect!