Custom Printed Wall Signage in Smooth Tension Fabric or High Gloss Acrylic
---
Wall Mounted Signage with Full Color Dye Sub or UV Custom Printing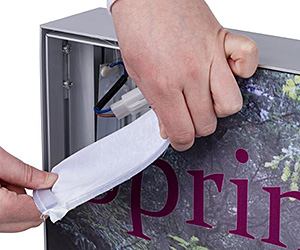 Need a graphic with a modern appearance? Our custom printed wall signage is perfect for featuring promotional images and logos. Two styles are available. Aluminum-framed light boxes feature SEG (silicone edge graphics). The fabric is printed with dye sublimation for a totally smooth presentation. The acrylic custom printed wall signage is available in numerous sizes. Your personalized graphics are applied to the reverse with our UV flatbed printer. The signs are mounted with stainless steel standoffs for a sleek, contemporary appearance that's ideal for offices, stores, and service organizations. Use custom printed wall signage to feature your ads, artwork, and wayfinding information with a professional presentation.
What are the main features of SEG (silicone edge graphics) light boxes?
This custom printed wall signage style offers seamless performance thanks to the tension-mounted fabric. The dye sub process reproduces permanent, high quality images for any number of advertising applications. Each graphic features silicone banding that is sewn into the material's edges. Once press-fit into the aluminum extrusion, you are left with a nearly frameless presentation.
Interior illumination is mounted inside each aluminum frame. LED strips, located on two opposing sides, bring the display to life with soft, glowing colors. In addition, the fabric's surface is glare-free for unparalleled viewing from any angle.
Replacement graphics are also available. One of the biggest advantages to using SEG fabric is in its flexibility. The stretch polyester material is forgiving which makes installation into the frame's channels easy. Need to ship a new graphic to your store or office? Simply fold up the fabric and stuff it into an envelope. You can't say that about a rigid sign board!
How do we create high quality graphics on our acrylic panel signs?
This custom wall signage includes high-quality UV imprinting that creates long-lasting, full color images.
We imprint this image onto an acrylic plate with a large flatbed printer. This is a "second surface" process, putting the picture in reverse on the backside of the unit. The image is just as easy to see, yet it can't be scratched off because it's protected by a full layer of acrylic.
As the printer distributes ink on the surface, it's quickly dried by ultraviolet lights before it can spread out. This creates a high resolution image that's accurate to the submitted artwork.
Our wall signage is offered in a variety of sizes and styles. Large poster sizes like 24" x 36" are excellent for advertisements because they can grab attention from afar. Also available are 3-panel triptych models that create an upscale artwork showcase. We also sell a variety of smaller fabrications that are great for wayfinding in large buildings. These are excellent for keeping people informed about what floor they're on, who works in this office, or simply where the break room is. If you're looking for modern, high quality graphics for advertising, merchandising, or wayfinding, Displays2go is here to help with our in-house custom sign print service!