Custom Countertop Display Signage - Personalized POP Signs
---
Counter Signage with High Quality Personalized Printing
How do you promote your business's services with your own personally designed graphics? Our custom countertop display signage is ideal for advertising your messaging and artwork — no matter what it is. These tabletop signs include fully customized printing done with our high-quality UV digital printer. Custom countertop display signage makes it easy and affordable to place your advertisements on any tabletop. Customers will notice today's special menu items, new merchandise on sale, and limited time offers that will encourage them to make a purchase. This custom countertop display signage is great for speaking directly to patrons to meet their needs and grow your business.
Why use these personalized tabletop signs for promotion?
It's effective – Custom countertop display signage is made to maximize visibility to reach out to more people. Whether it's featuring a logo and building brand presence or simply promoting a limited time sale, the message will be crystal clear to everyone. Because our UV digital printing process creates vivid images, custom countertop signage can feature as much information that can fit while remaining readable. Its position on the tabletop means it's easy for customers to see, learning more about services and opportunities.
It's affordable – Our custom countertop signage is offered at a low price to equip entire chains of stores or restaurants. Our double sided table tents create a high visibility promotional sign that's easy to see from any angle. Their simple economic design paired with their complete customization makes them a vital tool for any organization.
It's easy – This personalized countertop signage makes featuring an eye catching advertisement a breeze. Simply download a template for Adobe Photoshop or Illustrator on the product page, create your image, and upload it to your account. This will be applied to the sign with our digital UV printer. It's that simple!
This tabletop signage is ideal for promoting in a variety of organizations. Personalized point of purchase mats will be seen by every customer that brings an item to the cash register. Retail outlets, from convenience stores to high end shops can cover empty counter space with promotional material. While they feature an affordable construction, the right image will excite customers about upcoming merchandise while they make their purchase.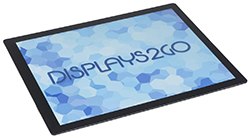 Out of room for counter signage? Cover empty rooms with wall mounted signs that feature the same high quality digital printing. This is an excellent way to show large format advertisements with a sleek design. Another great solution to promote your services is with customized graphic floor stands. These will catch the attention of visitors and passersby. Order from Displays2go.com and get all of these high quality graphic displays with fast shipping and wholesale pricing.