Custom Printed Window and Floor Decals - Clings with UV Digital Imprinting
---
Floor and Window and Decals with Full Color Custom Printing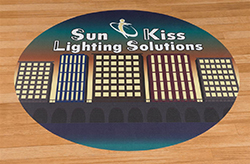 How do you feature high visibility graphics if you're out of wall and counter space? Our custom printed window and floor decals are excellent for featuring advertisements in retail stores. Each of the stickers comes with personalized imprinting to create company logos and enticing messages like "Sale!" The custom printed window and floor decals increase brand presence with completely customized artwork. This signage is imprinted with a UV digital process that creates high-quality images in full color. The custom printed window and floor decals are affordable, convenient, and durable, making them great for advertising your business.
Why use these commercial graphic stickers to promote your business?
These custom printed window and floor decals include full color image imprinting to create and logo, promotion, or welcome message. Create vivid graphics with our UV digital printing process that produces high-quality artwork. The ink dries faster than other methods due to the ultraviolet lights, preserving the definition in your design.
When you place these adhesive graphics, they're hard to miss. A cling placed in a storefront window will be highly visible to passersby on the sidewalk. Flooring signage easily draws attention due to people's natural tendency to look where they're walking.
Commercial floor and window advertisements are easy to put down or set up. Each flooring unit has a strong adhesive that sticks to a number of materials, including wood and carpet. The displays for windows are held up by static electricity. Once they're removed, they don't cause any damage or leave any residue.
Both our window and floor decals are made of durable vinyl material. This flooring signage will last for months, even in high traffic environments where customers will walk all over it. The static glass displays can be taken down and reapplied a number of times without tarnishing their image.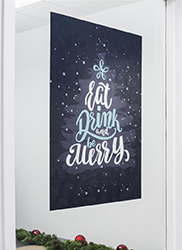 These commercial decals come in an assortment of sizes to meet any organization's needs. Choose from both circular and rectangular shapes, ranging from as small as 12" x 12" to as large as 48" x 48". Consider your space requirements and the dimensions of your logo when choosing a model that will fit your vision.
Where can these commercial graphic stickers best be used?
Retail stores are excellent for these marketing tools because they can feature specific messages. Advertise hot product lines that are new to the outlet or inform customers about special sales. Personalized printing allows store owners to use highly specific promotions to appeal to patrons.
Offices and other workplaces make great use of decals by displaying the company logo. Guide employees and visitors alike through the building by using them for wayfinding. The displays can also help create a safe work environment by featuring high visibility warnings.
Schools, universities, and clubs can show their spirit by featuring our easy-to-place signage. Their affordability means that any organization can put their logo on one of these vinyl stickers.
How does your design get onto one of these decals? Simply find the Adobe Photoshop or Illustrator template on each product page, add your image, and send it back. Our UV flatbed printer will recreate it in exquisite detail. This signage is offered at a low price — it's a great deal for fully custom artwork with full, vibrant color. Buy on Displays2go.com for fast shipping and bulk pricing.