Custom Water Base Sidewalk Signs with UV Printed Signboards
---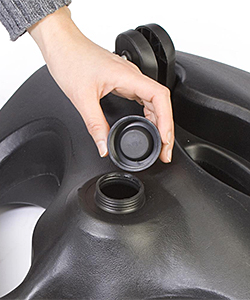 Weatherproof Signs with Fillable Bases Stand Up to Windy Conditions
In the market for an outdoor sign that stands up to Mother Nature? Our custom water base sidewalk signs come with two substantial features designed to do just that. The first is UV printed graphics. Send us your artwork and we'll have it permanently applied to a plastic corrugated (and replaceable) panel. The second is the fillable base feature of the display. By filling with sand or water, extra ballast is added to help keep the stand upright during gusty conditions. Custom water base sidewalk signs are absolutely essential in areas susceptible to substantial winds. These can include waterfront locations, wind-funneled city alleys, open roads, or any other place where gusts get channeled.
What are the main features of this waterproof signage?
Custom water base sidewalk signs offer single or double-sided printing. The majority of models come with Coroplast® signboards which we run through our UV flatbed printer. The pylon styles offer simple text lettering only.
Both printing processes provide dependable performance during inclement weather. The text lettering is created from computer-cut sign vinyl and applied to the surface with a squeegee. UV prints offer much more. Whether it's a hi-res image or an intricate graphic with fine details, the print quality is excellent and permanent.
A couple waterproof sidewalk sign styles come with wind-deflecting base springs as additional protection against gusts. While the base stays weighted to the ground, the poster display sways back and forth in a give-and-take dance with the breeze.
All exterior signs are portable. Select a unit with rolling wheels or a display with integrated handles molded into the base or frame. This is an important consideration, especially if you plan on bringing the sign inside during off-business hours.
When the promotion or advertised event has long been over, or after a few years of constant exposure renders the graphics unusable, replacement UV printed panels are available for sale separately. Just pick the size of Coroplast® panel you want and send us the updated artwork. We'll get it printed and sent off for use in your existing base!
Exterior-rated pavement signs featuring swinging, wind-deflecting panels are another option. Those and these weighted base displays make excellent choices for use in the great outdoors. Use them to advertise out on the sidewalk or alongside busy streets. Your goal is to attract motoring and/or foot traffic with a call to action. The best part is not having to worry if your paper poster will survive the rainstorm. These weatherproof advertising beacons offer capable assurance!