Digitally Printed Acrylic Signs - Custom Signage for Businesses
---
Acrylic Signage with Custom Digital Printing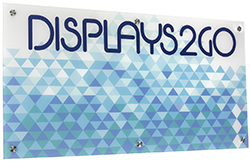 How do I feature high quality graphics with a professional presentation? Our digitally printed acrylic signs have a sleek design and include custom imprinting in full color. This style of signage presents images with a sleek appearance, whether it's a logo, advertisement, or wayfinding message. Digitally printed acrylic signs are excellent for offices where clean-looking displays are essential for creating a professional environment. Stores and service organizations also use these frameless graphic fixtures to feature their promotional material with modern flair. Use digitally printed acrylic signs for creating clear, attractive signage.
What makes these custom sleek image displays different from other fixtures?
Our digitally printed acrylic signs are a versatile tool for businesses because they incorporate our UV imprinting process. This creates high quality artwork from your submitted designs. The flatbed printer quickly dries the ink with ultraviolet light before it can spread and distort the image. This ensures that ads, wayfinding info, and logos will appear with vivid quality. Our process makes it easy for the end user to print their full color graphics on high visibility signage.
These printed acrylic signs are made of clear plastic plaques that complement any image. Showcase a company logo on one of these with a see-through background for an upscale presentation. The material gives graphics a noticeable sheen that makes them hard to miss — even on small wayfinding fixtures.
Printed acrylic signs have a modern construction and a sleek appearance to match. The contemporary displays boast a frameless design that puts their artwork first. Wall mounted options use stainless steel standoffs; this shiny hardware adds to the professional appearance with a suggestion of no-frills efficiency. The spacers additionally make changing graphics a breeze. Simply unscrew the caps and place a new plaque where the other just was.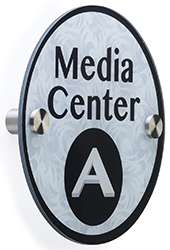 Our acrylic signs have another feature that makes them particularly special: second surface printing. Instead of putting the artwork on the front, it's imprinted on the back of the clear plastic in reverse. This protects the print from damage that could tarnish it.
Consider an acrylic sign for wayfinding in a busy office — employees could be rushing by to get lunch and someone bumps into the display's faceplate. A button, zipper, or rough patch of clothing could put a scratch on the exterior, but the messaging will be safe on the other side. Second surface printing also preserves the material's sheen, where text and images would reduce it. Browse our massive inventory of promotional tools offered with bulk pricing on Displays2go.com.