Custom Printed Traditional Tablecloths for Business Events & Trade Shows
---
Personalized Standard Table Covers for Trade Shows and Events
Looking to mask an old-looking tabletop or brand yourself at the next convention? Custom printed traditional tablecloths are a great solution for outfitting tables in any setting. Economy and deluxe styles are available — there's one for every budget. Custom printed traditional tablecloths are offered with wholesale pricing, making them great for bulk orders. They can also be reused year after year without losing their quality. These linens come in a variety of styles, colors, and sizes and are available with one color vinyl or full color dye sublimation printing. Our personalized throws give you the ability to brand your business the way you want to. Custom printed traditional tablecloths are a great addition to banquet halls, conference centers, corporate events, churches, schools, and trade shows. Browse through our catalog of table linens and personalize yours with a company logo, slogan, or special artwork!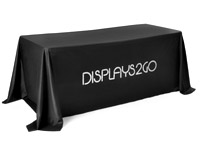 What types of standard booth covers can I customize?
Custom printed traditional tablecloths come in full coverage deluxe throws that cover the length of a 6' or 8' wide table on all sides. These linens create an upscale presentation as well as hide unsightly furniture nicks or a place for storage to mask boxes or other items.
Three-sided throws are the economy option and have one shorter side for seating — lesser the material means reduced pricing for production. The shorter side leaves legroom as well as allows people to have easy access to supplies they've stored under the table. No need to hassle with the linens to get what you need.
Fitted standard booth throws have full coverage on all sides and never need to be adjusted, avoiding a messy appearance. These linens have a crisp and professional look and don't show puckers, bumps, or gaps when laid out on tabletops. Ideal for populated events, these throws will stay in place and won't shift.
What are some of the benefits of linens made from polyester construction? Our throws have a wider hem and reinforced corners made with an all-around thicker material compared to other tablecloths in the market. Choose Displays2go for your table covering needs and let us help you brand yourself. With our linen options, you'll have the freedom to customize each piece to coincide with your brand or company. Shop online with us today and see for yourself!