Custom Printed Table Runners - Promotional Trade Show Throws
---
Table Runners with Custom Dye Sublimation or Vinyl Printing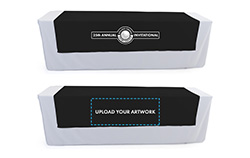 Custom printed table runners add to exhibit booths' presentation while increasing space for promotional messages. Plain, full-length tablecloths are great for dressing up an exhibit at a trade show. Branded custom printed table runners literally add an extra layer of detail to this by sitting in the center of the throw and featuring a company logo or advertising message. This is ideal for grabbing attention with contrasting colors or simply making a promotional image the centerpiece of the display. Our custom printed table runners for events are offered in a number of imprinting styles that can feature text, vector graphics, and even photographic images.
What are the different methods for tablecloth printing and what are their benefits?
Custom printed table runners with dye sublimation imprinting create graphics with photographic quality. Not only are logos imprinted in full color, but the images feature vivid shades that last a long time. Artwork is also more durable, the table runner is machine washable unlike units with vinyl printing. Dye sub imprinted tablecloths are great for giving organizations the best possible presentation. Our easy-to-use configurator will help you create the perfect linen for your needs.
Vinyl printed table runners with vinyl imprinting come with feature 1-color vector graphics. Want to put your logo or company's name on the front? This affordable option allows customers to choose from 15 available colors when designing their emblem. Learn more about different printing processes more on how it affects the material and the way it looks.
Table runners are available in two sizes; small and large. 30" wide cloths create a noticeable impression on booths, creating a clear focus on your company's image. 60" wide units cover a much larger portion of the table and feature larger graphics. These choices are ideal for creating the perfect presentation that represents your company the way you want and for fitting 4', 6', or 8' wide booths.
All of these runners are made of durable polyester to survive the wear and tear of travel and storage. This material is also flame retardant for extra safety. Its ability to stay wrinkle-free will also help your organization look professional, no matter how much it was jostled during travel. Get wholesale pricing on bulk orders when buying on Displays2go.com.