1-Color Logo Table Covers - Event Linens with Vinyl Imprinting
---
Custom Table Covers with 1-Color Vector Logo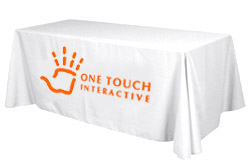 Going to a trade show and want to feature your company's branding? These 1-color logo table covers are excellent for displaying vector images and text at busy commercial events. Featuring your emblem or a promotional message on the front of your booth will make your organization more noticeable to passersby. Our custom 1-color logo table covers are great for making a name for yourself at conventions, but they're also ideal for banquets, fundraisers and job fairs. These linens are easy to personalize and are offered at affordable prices — perfect for schools, non-profits, and small businesses. The 1-color logo table covers are offered with wholesale pricing that's also great for large companies that need an expansive promotional campaign.
What makes these personalized event linens the ideal choice for branding?
Our custom 1-color logo table covers are available in a wide selection of shades to match any organization's branding. For example, we at Displays2go would use blue tablecloths with white imprinting to match our emblem. Choose from a number of cloth coloration options and choose one of fifteen hues for printed messages.
Each personalized logo table cover is made from highly durable polyester fabric that's ideal for bringing to events. This material is wrinkle free, creating a professional presentation even after it's been unfolded (or uncrumpled) from a long trip. In addition, each throw can be machine washed to assist exhibitors on the road that need a convenient cleaning solution. The tablecloths' polyester is also flame retardant.
Custom logo table covers are available in a variety of styles to meet any organization's needs. Want to store supplies underneath your tablecloth? Linens with three full sides have an open area for placing boxes and promotional materials. Fitted throws with a zipper are another option for keeping supplies out of sight.
Need more detail in your custom table cover? Washable polyester tablecloths with dye sublimation printing feature photographic quality images in full color. This process creates vibrant shades over the entirety of the linen for a complete promotional display. Order on Displays2go.com for fast shipping and wholesale pricing on all of these trade show booth linens.