Custom Printed Pub Tables with Personalized Logo Imprinting
---
Pub Tables with Printed Square and Circle Tops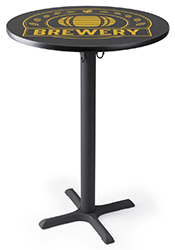 How do I feature a high quality logo on my dining furniture? Our custom printed pub tables are perfect for featuring branding for your business or favorite sports team. Each cocktail countertop includes full color digital printing to display any graphic. Our custom printed pub tables are excellent for restaurants, company cafeterias, trade show booths, and other locations where tabletop branding can shine. The laminated top will prevent spilled drinks and food from tarnishing your printed design. Custom printed pub tables come with a variety of features that makes them a great promotional furniture solution.
What makes these cocktail tables with an imprinted logo ideal for businesses?
Our custom printed pub tables are all made with a high quality UV printing process that creates full color images. This style of imprinting binds ink directly to the substrate, creating long lasting graphics that are hard to tarnish. UV printing also creates vibrant shades that refuse to fade away over time.
How safe are my tabletop graphics? Each full color printed pub table has a laminated top that makes the imprinted image resistant to damage from spills. This countertop's laminate material also makes it quicker and easier to clean.
All of these printed pub tables feature hooks underneath the tabletop for holding purses and handbags. This is great for accommodating customers that don't have enough room for their bag on these 24" and 30" surfaces.
These pub tables have a sturdy design with a heavy duty cast iron base. There's no need to worry about them tipping over — their four-legged support will keep them stable.
Our black pub tables for sports bars are offered in a few different styles to accommodate any environment. The furniture is available with either a square or circular tabletop. Choose the shape that will best suit your logo or dining area. In addition, the bar tables are available with a 2' or 2.5' countertop to meet any location's space needs. Order on Displays2go.com for wholesale pricing on bulk orders.