Aluminum Poster Cases with Swing Open Doors for Indoor or Outdoor Applications
---
Easy-Access Poster Holders with Hinged Doors Secure and Protect Signage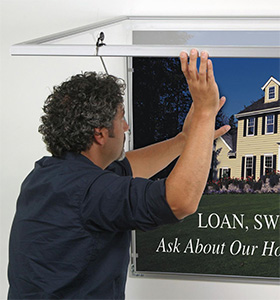 Changing advertising graphics doesn't have to be difficult. Make the switch to swing open aluminum poster cases! Our large inventory of frames with easy-access doors performs this task with flying colors. No more front panels to remove, no more poster holders to take down and undo — just quick and easy changes! We stock wall mount swing open cases in numerous sizes and finishes. Manufactured from aluminum, these frames feature lightweight construction that can be used indoors or out. Models rated for exterior use come with enhanced engineering for weatherproof performance. Our lockable swing open aluminum poster cases are built to last for years of use. Read on to learn more about what they can do for you and your business!
What contributing factors make these wall mount graphics holders so attractive?
Our poster cases come in two basic styles. Interior models are designed for portrait use only. Exterior frames can be installed either vertically or horizontally.
Indoor-only cases are available with the most color choices — black, silver, or gold. We offer many mat board options that either complement the corresponding frame finish or contrast it.
Holders that come with locks are another preference. If your poster is going to be showcased in high-traffic areas like schools, airports, or shopping plazas, buying a locking display might be necessary to protect against tampering. All exterior models come with locks, standard.
Speaking of the outdoor cases, they boast a few weather-resistant features. For starters, each door has black rubber gaskets installed along the inner door frame. Once closed, the gasket provides a tight seal against moisture. Furthermore, the door itself completely encases the inside frame. With this design, there is no entry path for water to encroach.
These enclosed poster holders are sized to accommodate graphics up to 36" x 48". They're suitable for a wide range of marketing and advertising tasks, especially inside retail stores. Malls and shopping centers are just a few examples. Exterior-rated cases make excellent tools for displaying public service announcements outside visitor centers, churches, and transportation hubs. Restaurants can lure potential patrons by advertising their menus to passersby outside the entrance. Parks and trailheads usually post rules, useful information, and trail maps. However these convenient frames are applied, their easy-open designs make quick work when swapping out a graphic! snap-open poster frames (also featuring front-load technology) are another framing style that can be considered as well. Displays2go's large inventory has something for everyone!