Slide-In Poster Frames for Hanging Promotional Signage and Art
---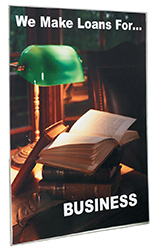 Poster Frames with Slide-in Design - Insert Design — Foldover, Flat, Beveled, Panoramic and Wave Styles
These slide-in poster frames are popular choices for promotional use in high-traffic shops and offices due to their quick-loading design. Our mounted sign holders allow immediate updates to the enclosed graphics without removing framing from the wall. Busy retail store owners turn to these quick-change marketing solutions again and again to help promote seasonal sales and new merchandise. Hospitality workers find quick-loading signage easy to work with so they can stay on top of their marketing program without losing focus on food preparation or desk tasks. From 8.5" x 11" print holders up to 24" x 81" panoramic signs, we have many options for fast-loading wall signage.
We offer a wide array of slide-in poster frames, also known as wall mounted signage, in styles to suit any decor. From affordable suction cup mounted plastic print sleeves to large-scale horizontal signage that sits 7" off the wall and dispenses literature from built-in trays, we've got (your walls) covered! Our sign holders have an insert channel on one side where artwork effortlessly slides over the mounting bracket. Refresh graphics by pulling out the artwork from the opening. Replace the picture, then slide it back the same way. Most of our slide-in poster frames come with hardware on the back for top- or side-loading vertically or horizontally. With zero hassle, your promotional refresh for the day can be done in a matter of seconds!
What styles do these wall mounted sign holders come in?
Slide-in poster frames are available in acrylic and metal in an assortment of pleasing designs. Our clear frames have an uninterrupted border and polished edges that look sleek in any location. Fold-over and frameless styles are minimalist and using them puts all the focus on the enclosed prints. Our aluminum styles can be plain with a flat front, which is great for restaurants and bars or stores. Beveled framing works perfectly in elegant hotels and salons, and museum gift shops.
Suction cups mount plastic sign sleeves on either side of a window. This convenient sign style is affordable and really easy to work with. This print holder is portable should you require signs for trade shows or conventions.
Signs with a wave-style design look high-tech and appealing in car dealerships or travel agencies, and malls, anywhere you need to make a visual splash. These curved banner frames get noticed in large arenas and convention centers. They have green-tinged acrylic which looks like glass — and is always a nice touch in a higher-end showroom.
Straight wall frames with accompanying literature trays and a removable divider so you can dispense magazines or trifolds is a great way to underscore promotional messaging. These are deep-profile displays that stick out 7" so they really "pop" in busy showrooms.
A large vertical sign comes with four satin silver standoffs for mounting a long banner style advertisement with edge-grip hardware and magnetic clamps. The standoff hardware not only keeps the print intact, but it also adds a decorative flourish to room.
Many of our poster frames can be customized with a logo, tagline, or text copy block to boost your brand story. This commercial framing is perfect for venues that specialize in temporary exhibits where there is a high concentration of visitors coming in and out. Hang wall art in frames that offer the quality of permanent exhibit tools, with easy, temporary switch-out capabilities. Each of our signs comes with a non-glare protective lens. This is not just a plastic sleeve, but quality acrylic lens that really does the job of keeping sunlight, dust, and fingerprints from damaging the artwork. Shop Displays 2go for commercial advertising framing. We offer fast shipping, deep discounts for large orders, quality, and designs that enhance the decor of any room they're placed in. With so many styles to choose from, there's really no reason not to snap up some of these awesome marketing signs!