Plain Stretch Table Covers for a Sleek, Fitted Look
---
Spandex Overlays with Polyester/Lycra Stretch Fabric!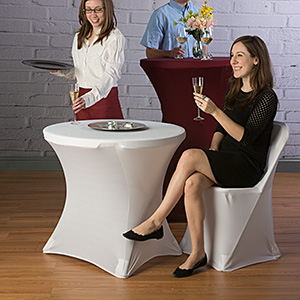 For years, traditional table decorations have been simple drapes and skirting. How can you, the event planner, add more visual interest at the next show or reception? Plain stretch table covers transform the old-fashioned into the new and exciting! Easy to use and very affordable, fitted overlays enhance your interior decor with smooth, soft lines. They install in just about the same amount of time it would take for you to spread out a traditional tablecloth. Plain stretch table covers tackle the problem of how to camouflage ordinary counters. In so doing, cocktail lounges, receptions, and trade show booths now become a much more attractive destination! Liven up the party or create a more professional environment for business — either way, these desirable stretch table covers are worth every penny.
What are the main selling points of these spandex overlays?
Wrinkle-Free Performance — our plain stretch table covers expand thanks to the polyester/lycra mix material. Small pockets are sewn into the base which hook onto each table leg. The resulting tensioned fabric produces graceful curves with a smooth overall presentation.
Lots of Table Sizes — we offer covers in rectangular and round styles. Rectangular tables (normally used at trade shows) accept the six or eight-foot-long overlays. Round models are designed for the cocktail/pub-height tables (available in two widths and heights).
Colors! — whether you're looking for classic black or white, bear in mind we do have colorful options. Consider utilizing bright covers when you want to make a big impression. Adding a splash of color not only enhances the visual presentation but also increases the fun and atmosphere at public gatherings. The thing to remember is trade show table coverings look just as good in casual settings as they do in more formal surroundings.
The rectangular models come with one additional feature. When tables are situated inside a trade show booth, for example, most exhibitors pull up chairs in order to sit behind them. Our covers are open on the rear side which provides plenty of legroom as well as easy access to materials stored underneath! In addition to the decorative capabilities these contemporary overlays have to offer, we do offer throws with total customization. Full-color printed table linens use dye sublimation to apply custom artwork. Add your company logo, photographic images, and more. Emblazon your cover with the name of the event, or expand the reach of your brand with corporate imagery. Since you can print on every square inch of the material, you are only limited by your imagination!