Plain Convertible Table Covers for Trade Shows and Functions
---
Plain Polyester Tablecloths Adjust to Fit 4' & 6' Tables and 6' & 8' Tables
Looking for a multipurpose linen for your next event? Plain convertible table covers are a great solution for outfitting tabletops at trade shows, corporate functions, and ceremonies. These adjustable throws are great for when you're in a pinch and aren't sure what size tablecloth will do the trick. This frequently happens at trade shows, conferences, or other temporary events because often the attendees don't know what they're going to get when they show up at a venue! Plain convertible table covers adjust to fit 4', 6', and 8' tables, so these polyester linens will fit just fine while maintaining a professional and crisp appearance.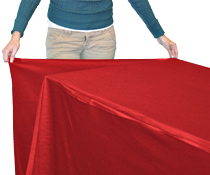 These booth throws feature hook-and-look attachments that are sewn in and makes it simple to adjust between sizes. Simply fold in the side panels of the table cover to convert the size — they fasten into place easily with the hook-and-loop accessory.
What are some other benefits of these adjustable table linens for trade shows?
Plain convertible table covers come in a variety of shades to fit any setting. Black, white, red, and royal blue linens are available. These colors are great because it's easy to match them to any company or brand logo, and other types of custom graphics.
Each tabletop linen is constructed from long lasting polyester, the ideal material for traveling to and from events. Not only is this material, but it's wrinkle resistant, and machine washable so it can be cleaned anywhere. To comply with trade show regulations, these booth tablecloths are also flame retardant — making it a safe option for events and for storage.
These adjustable exhibit throws come in handy for masking unsightly tables and hiding supplies and necessities at trade shows or other temporary events. Attendees come with lots of baggage (literally). Keep everything out of sight and help your booth maintain a clean and polished appearance.
Linens that can adjust to fit most tabletops is a must for your arsenal of trade show necessities. Plain isn't what you're looking for? Browse through our catalog of custom printed convertible tablecloths for events. Print your company logo or brand message in a variety of color options. Shop online at Displays2go for your tablecloth needs — after all, no one can beat our selection!