Ornate Wrought Iron Easels - Decorative Floor Standing Frame Holders
---
Ornate Metal Decorative Easels with Classic Wrought Iron Style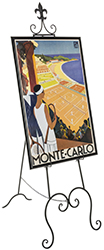 Looking for decorative floor standing displays for your next art gallery showing or boutique sales floor? Our ornate wrought iron easels are made with classic designs that are ideal for retail stores, restaurants, and event venues. The decorative display stands are constructed of black metal with elegant details. These ornate wrought iron easels are excellent for upscale presentations, whether they're announcing a wedding, holding a sign at a banquet, or displaying a sign at a flower shop. Their sturdy design allows them to hold large signage frames and paintings. Floor standing ornate wrought iron easels are durable and stylish, making them great for a variety of uses.
Where can these elegant display stands be used?
Ornate wrought iron easels are great for showcasing events with their upscale appearance. These sturdy metal fixtures complement frames with promotional posters and announcements about the keynote speaker. Their durable yet attractive fabrication is excellent for busy hotels and event venues. Our decorative tripod floor stands will make sure that important signage is the center of attention.
Floor standing iron easels feature a classic design that's ideal for weddings. Upscale display stands are often found at ceremonies where they proudly feature the names of the couple. This style of wedding signage holder clearly directs patrons to the festivities with style. Multiple units are great for welcoming guests, providing navigation around the venue, displaying the seating arrangement, and featuring photos of the couple.
Ornate iron easels with Fleur-de-Lis toppers and beautiful scroll designs are often used in art galleries where they feature paintings and photography. Their simple black metal framework is attractive, but it will not distract from the artwork in the exhibit. Our elegant floor stands are the ideal choice for featuring large artwork at an angle that's easy to see for standing patrons.
Metal decorative easels are also used in retail stores for promotion. Flower shops and art supply outlets are great places for these ornate displays. However, their simple, sturdy construction will survive any store, no matter how much foot traffic flows through. Advertising with durable aluminum poster frames is perfect for shops with busy floors. Our sign holders also add style to restaurants and bars where they can showcase menus for drinks and specials.
These decorative curved easels all feature height adjustable hooks to accommodate a range of frame sizes. Art galleries, banks, and hotels that switch between graphics will be able to use the same fixture for different media. This also allows the user to set the height at which images are displayed.
Metal display stands with a collapsible design fold flat for easier transportation and storage. They are quickly assembled in minutes because of their simple two or three piece construction. Galleries can quickly change their exhibit floor with speed and efficiency.