Custom Printed Phone Charging Stations with Full Color Digitally Imprinted Graphics
---
---
---
---
---
---
---
---
---
---
---
---
---
---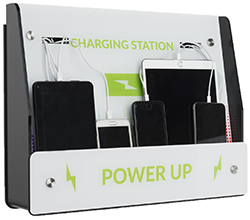 Phone Charging Stations with Custom Printed Graphics and Text
Want to offer a free boost to customer devices while promoting your brand? These custom printed phone charging stations include full color personalized images and messaging. Managers in cafés, airports, and retail stores know that a dead smartphone is bad for business. Our custom printed phone charging stations offer a solution with the added benefit of advertising space. This makes cellphone recharging kiosks excellent for featuring the company's logo and marketing. Browse our floor standing, wall mounted, and countertop custom printed phone charging stations.
How do personalized cellphone recharging kiosks help businesses?
Custom printed phone charging stations give patrons peace of mind during daily activities, including shopping and dining. Patrons with dead or low battery cellphones are more likely to leave the location for power. Giving people a way to recharge their devices doubles shopping time, increases the checkout total by 29% and converted 54% more customers according to a study by GfK. They also feel more positively about the retailer that provided the service. Cellphone recharging kiosks improve the customer experience by creating a space free of low battery anxiety.
These digitally printed phone charging stations are ideal for displaying logos and advertisements. We use a high quality UV imprint process to create vivid graphics in full color. There's no better way to build brand presence than with sharp and consistent images on your fixtures. This is also advertises that your company offers a free recharging service.
Our cellphone and tablet kiosks for retail stores include different imprinting options. Some models include full graphic representation while others have customizable text. These stock printed phone charging stations feature modern artwork with vivid colors. Use this space to display the company's name or inviting messaging that lets people know that they can power their device.
These promotional phone charging stations are offered in variety of placement styles. Floor stands give the most area for artwork and powering devices. Also, these displays have room for accessories like personalized headers, poster frames, literature holders, and extra shelves for electronics. Our tables have a modern appearance that invites people to refill their batteries. Floor standing phone charging stations grab attention and feature more media.
Countertop and wall mounted charging stations are the perfect choice for smaller areas. These compact fixtures have ample space both for customers' tablets and personalized messaging. Offered both as single and multi-shelf models, they create a convenient area for powering electronics. Our acrylic counter stands double as wall mounts and let users switch out graphic panels. There's so many ways to accommodate modern consumers while promoting your brand.
For more security, browse our charging stations with locking doors. Keep people's personal items safe from theft in schools and offices.