Multi-Device Charging Lockers with Secure Compartments for Devices
---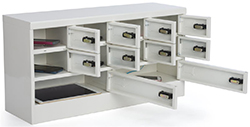 Multi-Compartment Lockers for Charging Phones and Tablets
Supplying electronics in offices and schools is important for creating a productive environment. Our multi-device charging lockers store laptops and tablets in secure compartments. This is a great way to prevent theft in classrooms and workplaces while providing easy access to technology. Multi-device charging lockers also hold personal belongings like phones when they're low on battery or can't be used. The iPad recharging stations with locking doors feature USB ports or AC receptacles to accommodate a variety of cords and devices. These multi-device charging lockers are offered as mobile carts, countertop cabinets, and wall mounted cases.
What types of secure recharging stations do we offer?
Multi-device charging locker carts are great for large schools and office buildings. Easily store and move electronics while keeping them at full battery. Most of these laptop recharging carts have 30 or more spaces for computers, enough to supply a large classroom or work area. Each trolley has four caster wheels for rolling down hallways, an ideal solution for sharing the same systems in different rooms.
Our countertop charging lockers with individual compartments are excellent for organizations with cell phone policies. Students can safely turn their devices in during a test and get them back fully charged. Employees in cleanrooms and areas with sensitive information can deposit their smartphone and retrieve it at the end of the day. These cabinets have sturdy steel fabrications and programmable combination locks that keep people's personal belongings safe. Also included is a master key for administrator access.
We offer another line of counter charging lockers with a single compartment. This style is ideal for supplying classrooms and workplaces with laptops and tablets. There's only one door to unlock before everyone can access devices for working and learning. These countertop laptop cabinets can also mount to walls, conveniently dispensing electronics when there's not enough floor or counter space.
These tablet lockers, while protecting electronics from theft, often include an LED indicators. Depending on the model, these lights will tell you if devices are recharging and what power mode the cabinet is in. This is handy for safely monitoring how many laptops are ready for use from the outside.
Our computer carts and cabinets feature a variety of power options to accommodate a range of devices. Many include 3-in-1 cables, with Micro-USB, Lightning, and Apple 30-pin ports. Only one of the jacks on each cord can be used at a time, but this means that most smartphones and touchscreens are supported. Other models have AC power outlets for laptop plugs and other inputs.
The touchscreen lockers also include a cable management system that makes it easy to plug in and retrieve learning tools. By keeping the cords in the back, they stay out of the way for a clean, efficient presentation. Many sizes of power adapters can fit into these compartments, making them perfect for a wide variety of laptop models.
Need to protect all of your visitor's belongings like coats, wallets, and purses? Browse employee lockers for security in warehouses, offices, and schools