Stock Welcome Feather Flags Up To 14 Feet in Height
---
Stock Welcome Feather Flags Are The Affordable Choice for Outdoor Advertising!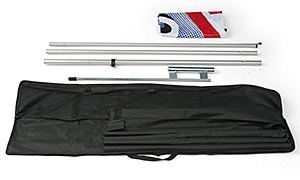 To catch the eyes of potential customers, sometimes it requires taking it to the streets — with a promotional banner, that is. These stock welcome feather flags extend the reach of your business by attracting passersby in front of your establishment. We offer a fine selection of pre-printed designs featuring bright, bold graphics. In addition, our stock welcome feather flags come with many mounting base options for interior or exterior applications. Excellent choices for retail stores, churches, or events of all kinds, the printed fabric flutters with the wind for a memorable presentation. Stock welcome feather flags can be very effective beacons in the eyes of motorists, for example. What if your store is set back somewhat from the road? Planting a flutter flag will let people know you are open for business. Promotional banners also help to create a friendly reception when used at open fairs, festivals, and more!
Why buy stock feather flags from us? Our customers have spoken:

"The use of this flag was to let everyone know they are welcome at our fundraisers and other events at our local volunteer fire department. For the money we had to spend, we are very happy with the quality. We plan to use it for many years to come." — Barbara E. on May 1st, 2017
"They are great attention getters." — Ron M. on April 17th, 2017
"I'm extremely pleased and happy we bought these. I've tried other flags before for hundreds more that do not match up to the quality of these flags bought here. I urge everyone to purchase the flags, you won't be disappointed." — Terrence B. on August 3rd, 2016
Each feather flag comes as a complete kit — you get the banner, extension poles, and base along with a convenient storage bag. And what about the bases? We offer four different options. The popular choice for most customers is the ground stake. You'll get virtually unlimited placement options around your establishment (as long as you have soil). A specialized alternative is the car foot, ideally suited for auto dealerships. The banner rests on a forked base that is stabilized by the weight of the car's tire. The next two styles can be used for both interior and exterior applications. The plastic base provides ballast to the stand. Once filled with sand or water, the base can be placed on any level surface indoors or out. The same can be said for the standard cross stand. For extra stability, a round water bag is placed over the base. With so many ways to display your flutter flag, it's an easy task to grab people's attention. Fabric OPEN banners are just as powerful. Draw in potential customers with an outdoor advertising display today!