Display Cases with Wheels Give Merchandisers Movable Presentation Options
---
Wheeled Display Cases Allow Dynamic Mobile Promotional Positioning for Retail Merchandisers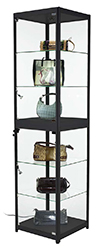 Is your retail or specialty store looking to diversify it's merchandising with a line of dynamic fixtures? These display cases with wheels are a great supplement to static cash wraps, register stands, and counters by adding increased functionality to any sales floor. Mobile cabinets are adaptable to the varying year-round promotional challenges retail and specialty stores face. Portable fixtures allow merchandisers to keep their displays moveable and able to be moved at will to suit the needs of specific stock, sales, or preferences of interior design. Use display cases with wheels to mix up product merchandising while allowing specific items to be visible exactly where you need them to be, removing the stock from the floor at the end of the sale in minutes.
Promotional showcases increase brand authority and foster customer interest while protecting featured wares. Many retail or specialty locations combine many static counters to create a cohesive presentation of their merchandise. The majority of these fixtures hug the peripherals of any floor plan, however, display cases with wheels allow floor cabinets to promote items in the middle of the store. Each of these furnishings have hidden casters so products can be moved wherever exposure is needed.
What different styles of showcases are available?
Freestanding tower display cases with wheels are a great way to demand attention in the middle of your sales floor. Many of these are made entirely of glass allowing customers to view products from every angle while browsing. Good merchandisers will use the multi-level shelving to present small items together, or to highlight larger and more valuable stock. These tower showcases stand up to 77" tall and have a locking doors to ensure merchandise remains protected.
Countertop displays can be used to create a traditional cash wraps or to highlight promotions mid-floor. Use these fixtures to group related products together and present stock in a way that says, "people who bought this also bought that." These counter showcases have two shelves for merchandisers to utilize varying display options. Hidden wheels allow these fixtures to be mobile to easily transition between promotions and merchandising needs.
Front-end cabinets are great for gift shops, museums, galleries, and retail locations. Place these fixtures directly against a wall to hold trophies, trinkets, antiques, and any other high-value items that deserve to stand out. These showcases have appealing front-end accessibility and track lighting that ensures all products remain illuminated. A front-facing cabinet is ideal for promoting products that are of higher value, one of a kind, or stock that your location is generally proud to carry.
Use cases with wheels in conjunction with one another to create moveable arrangements in any retail store. Tempered glass features are durable and useful as a safety precaution against accidents given the displays' mobility. Many of our fixtures are compatible with LED or halogen lighting to illuminate stock for your customers. Each case has a lock and key system, so an attendant will have the opportunity to highlight key product features to interested customers. For antique, collectible, or specialty boutiques we suggest using miniature display boxes to further protect valuable counter top items. Use these cases together to showcase diverse product lines throughout your store while maximizing visibility and security for your merchandise.