Museum Style Display Cases for Artwork, Collectible Models, and Antiques
---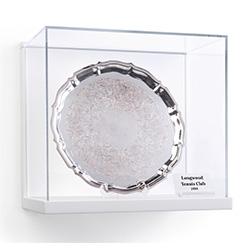 Tabletop Display Cases and Wall Mounts with Museum Style Presentation
Looking for a sleek way to feature collectibles, artwork, and merchandise? Our museum style display cases have simple, modern designs that go with anything. These exhibit showcases are made with a MDF base with a neutral finish that puts the focus on their contents. Each of the museum style display cases includes a clear acrylic dust cover that creates a protects objects from being touched. The modern collectible holders are excellent for office lobbies, antique shops, jewelry stores, art galleries, and personal collections. Museum style display cases elevate any presentation, from historical artifacts to lines of rare toys.
What features are available with these exhibit showcases?
Our museum style display cases are available as either countertop models or wall mounts.

Tabletop displays feature a simple frameless design that turns jewelry into a centerpiece. These counter showcases have a small footprint yet they attract attention to the merchandise inside.
Sleek wall mounts also have modern frameless dust covers for a contemporary look. The mounted showcases are available with angled bases and classic box designs. This is a great way to feature treasured vases and sculptures without taking up counter space.
Looking for larger showcases for exhibits? Our floor standing museum displays are ideal for exhibiting large works of art and jewelry sets.

Museum display cases with linen backers that create an interesting backdrop for collectibles. Counter units come with fabric seating that makes their contents pop. Exhibit wall mounts boost paintings and sculptures with black or white linen backing. Mounted museum display cases with fabric backdrops resemble shadow boxes. This design is great for presenting mementos and collectibles with depth. Pin small items to the linen backer for an eye-catching fixture.
These exhibit display cases are made for galleries, building lobbies, retail stores, and more. Each unit features an MDF base in neutral black or white to match any décor. Their affordable fabrication and sleek appearance makes them excellent for both upscale and downmarket locales.
Countertop display cases with lighting illuminate collectibles from beneath. This style makes artwork stand out with soft, ambient light that grabs attention but doesn't steal the show. Contemporary illuminated fixtures build prestige in stores and galleries with their upscale presentation.
Why use these countertop and wall mounted cases for exhibits? These affordable fixtures feature a modern, minimalist style. Pair them with everything from collectible action figures to expensive necklaces. Because each case is made of MDF with an acrylic dust cover, their modern look is available at an affordable price.