Pallet Skirts with Digitally Imprinted Full Color Graphics
Sorry, nothing is currently available here. More may be back in stock soon! For more details or help finding alternatives please contact us via phone or live chat during operating hours.
---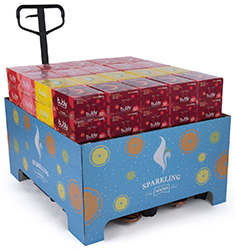 Corrugated Cardboard Skirts for Pallets with Custom Digital Printing
Want to advertise merchandise in wholesale clubs and grocery stores? These custom printed pallet skirts are ideal for covering unsightly skids with promotions. It's easy to advertise consumer goods in big box stores with these corrugated cardboard displays. Pallet skirts have large spaces for marketing, featuring fully customized graphics in full color. This is great for displaying logos and branding where they can be seen from a distance. There's no better way to increase recognition in large aisles and expansive store floors. Our pallet skirts create a large format advertisement that helps customers find what they're looking for and companies sell their merchandise.
How do you affordably cover wooden skids? These pallet skirts are made of corrugated cardboard for economically promoting brands. In addition, the department store wraps are easy to assemble due to their lightweight design. The corrugated cardboard skirts have the durability to hold lots of bottles, boxes, and packages in high traffic environments. Each wholesale club display is made with custom UV digital printing that creates high quality images in full color. This is excellent for accurately representing brands with crisp artwork. These custom printed skirts hide pallets from view while directing customers to the merchandise they love.