Metal Wall Mounted Brochure Holders For Space Saving Literature Displays
---
Metal Literature Racks Store Business Information and Marketing Material on the Wall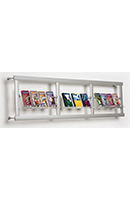 Are you looking for a lasting, space saving, way to display pamphlets in your office or retail store? These metal wall mounted brochure holders are stylish high-end display fixtures. Aluminum or steel construction creates durability in high-traffic environments. These powder coated units are resistant to scratching, bruising, and endure regular wear-and-tear. Metal wall mounted brochure holders have the perfect balance between style and longevity. Literature racks, such as these hanging units, are a space saving option that places pamphlets in an underutilized area. Position a metal wall mounted brochure holder in the lobby, hallway, or main entrance to entice customers to take a leaflet.
These literature racks are an essential organizational tool for any business. Units are available in single-pocket designs as well as larger multi-tiered options. Use multi-pocketed metal wall mounted brochure holders to showcase a larger array of free information. Take-away pamphlets help customers learn more about your organization. Take advantage of these displays to put relevant information right at your customers' fingertips!
Why do businesses choose these wall mounted brochure holders?
A literature rack is a space-saving way to display important business-oriented information. Place a unit in lobbies, entrances, and waiting rooms with limited counter space. By positioning pamphlets in attention-grabbing locations, customers are more likely to take one.
Many multi-pocket units feature adjustable shelving with hooks or removable dividers. These brochure holders can adapt to varying sizes of printed media. Models with this option also support standard 4x9 horizontal or vertically printed brochures.
Some models feature top-oriented poster frames. These models further call attention to literature racks and diversify marketing potential. Use these wall mounted brochure holders to promote a specific product, service, or idea. Support the advertisement with information packets below.
Take-away information gives your guest the opportunity to review your offerings on their own time. A well-formatted brochure can answer questions and provide clients with pertinent contact information.
Sharing free marketing information is a low-cost way to boost sales and engagement. At Displays2go we have a large variety of wall mounted, countertop, and freestanding brochure holders. Businesses can shop models constructed with acrylic, cardboard, and wood as well. Choose from a selection of wire countertop pamphlet holders to match the interior stylings of these wall mounted options. A cohesive arrangement of in-store fixtures, including these metal options, creates an upscale business environments.