Metal Brochure Holder Floor Stand for Organizing & Distributing Literature
---
Freestanding Aluminum Brochure Holders for Promoting Your Business
On the hunt for an impactful solution to promoting your business? A metal brochure holder floor stand is an effective way to distribute informational literature like leaflets and trifolds 24/7 to customers and passersby. With a sturdy aluminum construction, these freestanding units will hold up to the daily wear-and-tear of high-traffic locations like lobbies, airports, or visitor centers. Keep valuable information in the hands of potential clients and customers by utilizing a metal brochure holder floor stand and filling it with important literature. Freestanding trifold racks even make it possible to customize a display with specific company information . Choose from units with sign holder options to feature eye-catching graphics or text that will entice passersby to engage with the take-away leaflets on display. Brochure holder floor stands with an aluminum build are the perfect addition to any establishment because of their sleek and versatile design. Browse through our selection to find ones best suited for your needs and location.
What types of freestanding aluminum literature racks do we have to offer?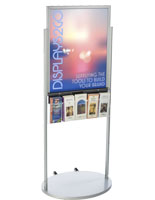 Choose a metal brochure holder floor stand with adjustable pocket dividers to have the best of both worlds. Insert literature of all sizes, from trifolds to larger magazine-style editorials. These freestanding units come in a variety of styles to suit your business needs. Browse through a ton of common sign sizes including 22x28, 24x36, and more.
Sign holders with literature racks are an effective way to add extra advertising power while displaying your trifolds. Customize with eye-catching text and graphics specific to your company to entice passersby to grab a leaflet. Double-sided options are also available to catch the attention of passersby coming from any direction.
Multi-tiered units are great for high trafficked locations like lobbies, medical buildings, community centers, or visitor rest stops because of the large volume of literature they can hold. Stock with a variety of informational trifolds and give passersby the ability to browse through a multitude of content at their leisure.
Literature racks with wheels as well as rotating units are versatile solutions for presenting trifolds and leaflets. The stands with rotation abilities make it easy for customers to browse through what's on display and fixtures with wheels make it possible to pinpoint the perfect location for showcasing informational brochures.
Curved holders add an eye-catching design element for presenting trifolds. These come with an additional sign holder or with multi-tiered options. Take your literature racks to the next level!
So, what kind of trifold holder speaks to you? If freestanding isn't what you're looking for and you're on the hunt for something that takes up less space, try our metal wall mounted brochure holders instead. Regardless of the style and finish you choose, Displays2go has what you're looking for when it comes to presenting printed media and leaflets. Shop online today!