Wooden Brochure Stands Feature Solid Wood Construction in Many Fine Finishes
---
Display and Organize Free Takeaway Info with Multi-Pocket Floor Stands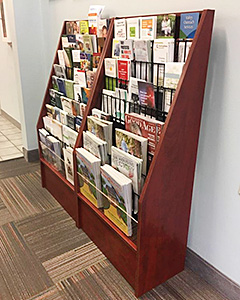 Offer 4x9 pamphlets (as well as mixed sizes) to visitors or customers with freestanding literature fixtures! Wooden brochure stands can be located just about anywhere with pinpoint placement. Unlike wall-mounted racks, you instead have the ability to target consumers with marketing materials out on the floor. Wooden brochure stands feature solid wood construction that appeals to upscale interiors. Select models with warm stained finishes or choose simple kiosks in black or white. Whatever the choice, our wooden brochure stands perform the task of coordinating free tri-fold literature for the taking. These free takeaway leaflets can include CD & mortgage rate pamphlets, healthcare flyers, local tourist destinations, and much more. Read on to learn more about what wooden brochure stands can do for your place of business or other establishment.
What kinds of floor standing literature racks are available?
Wooden brochure stands commonly seen in welcome centers are designed with the most number of pockets. This is because, for any one tourist destination, there are always numerous places to visit. As such, we stock brochure stands designed for large quantities of pamphlets (up to 45 pockets).
Literature stands featuring 12 to 24 slots are excellent choices for healthcare waiting rooms, service centers, libraries, and museums. One series features open shelves for accommodating reading material of any size. Another style comes with spinning action that allows visitors to browse the selection by turning the kiosk at their leisure.
Poster stands paired with brochure pockets offer maximum marketing exposure. The top sections of these kiosks display your 22" x 28" graphics that call attention to new products, upcoming events, and other advertising tasks. Models are available in either single or double-sided styles depending on their placement. The literature pockets are located right beneath the poster for storing the associated "take home" pamphlets or flyers.
Smaller sign stands w/ pockets narrow the focus considerably. These are designed for pointing attention to a single object such as a new car, for example. 8.5" x 11" sign holders advertise the item while the acrylic brochure holders get stocked with the manufacturer's color choices, options, extended warranties, etc.
The main attraction to buying these literature stands has to do with the wood-grain finishes. Their traditional warmth adds much-needed decoration and/or ambiance to professional interiors. Colors include light oak, medium oak, and red mahogany. On the other hand, perhaps you might be thinking of something a little more...contemporary? Aluminum literature stands offer clean lines and smooth, anodized finishes. Our silver and black models fit right in with today's more modern interiors!