Cardboard Countertop Brochure Holders Knock-Down for Affordable & Lightweight Transport
---
Folding Cardboard Holders Organize Brochures on Business Countertops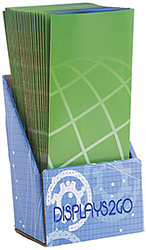 Does your business need a cost effective way to present free take-away pamphlets in the lobby, waiting room, or checkout counter? These cardboard countertop brochure holders ship flat and unassembled, offering high functionality for the incredibly low cost. Portable knock-down pamphlet boxes are ideal for one-off events and traveling trade show exhibitors that are on the go. Cardboard countertop brochure holders can fold up in seconds and occupy limited space. Inexpensive literature stands feature minimal setup time and support traditional 4x9 tri-fold leaflets.
Some companies invest thousands on marketing and merchandising advertisements with little success. Use a cardboard countertop brochure holder to offer free take-away info packets and grab customer attention. Giving customers powerful product information, special offerings, or even medical insight builds authority and a strong relationship. Use displays as a cost saving, yet effective, way to promote on the road or on a budget. Cardboard countertop brochure holders showcase promotional literature in easy accessible locations and help patrons make better informed purchases. Providing take-home information packets to review, businesses encourage return business.
What are some benefits of buying these economy literature boxes?
Low-cost countertop brochure holders support 4x9 tri-fold pamphlets. This type of media is easily printed from any home or office. Leaflet displays allow businesses to share information while spending less on marketing supplies. Custom leaflets share industry-specific information with your customers, promote sales, and build awareness.
For limited budgets, wholesale pricing is standard on many products. Batch orders are ideal for corporations, franchise chains, and large-scale event circuits. Bulk orders allow business' to outfit each unit for the promotional needs of each event. Some models feature custom printing options for a more personalized marketing display.
High traffic business environments, such as trade shows, often have a multitude of tri-fold information packets to hand out. Vendors use countertop brochure holders to dispense promotional material for customers to review. These units are functional in any retail store, doctors office, or trade show booth. Use to share information on store credit cards, medical help, or product catalogs in a cheap and organized fashion.
Countertop brochure holders ship flat for traveling vendors who have restricted space and time. Given the low-cost, some users even throw away units between events. Brochure holders present pertinent information to passersby, increase sales, and engagement. For established business environments, check out our selection of wall mounted acrylic pamphlet displays as a space saving multi-pocket option. Explore a wide range of products including floor standing and wall mounted units. We also offer a variety of materials including acrylic, wood, and metal. No matter your business' marketing needs, you will be sure to find the perfect tri-fold brochure holder with Displays2go!